Community Radio project a success!
7th January 2016
... Comments
---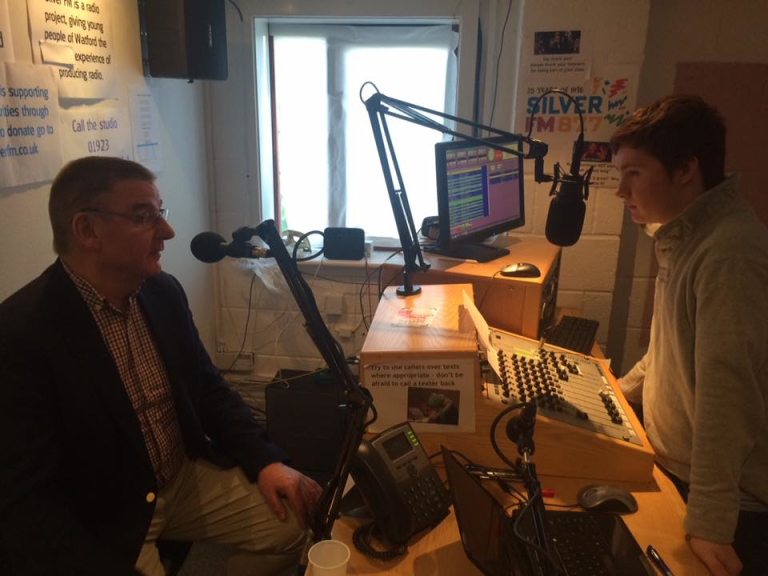 Silver FM was back on the Airwaves across the Watford area from 5th December up to and including 25th December on 87.7 FM and also available online
Long time supporter of the Silver FM Radio project Councillor Mark Watkin popped in for a chat ON AIR and to show his support for the radio station. Volunteer & Student Callum Hewiston (who attends Francis Combe Academy) had the opportunity to interview the Councillor on the air.
Mark Watkin said: "This is a phenomenal project which gives young people an opportunity which they simply can not get through school. And the fact that so many young people from across Watford have taken the time to volunteer and have their very first chance at broadcasting, suggests to me that these kind of projects are valuable, both for the individuals, but also for our town!"
"I was involved as a school governor back in the 1990's when Silver FM broadcast originally from Bushey Hall School, and back then I recognised the value of this project. But seeing the radio station come back to life after over 20 years of rest, suggests that there is a passion, and it creates an interest for all involved. I'm delighted that the project has been a success" 
David Rees, Project Manager, said "Mark has been a leading light for the Silver FM project, he has supported our team, both with advice and a financial contribution too for which we are incredibly grateful. Mark completely grasped the concept of getting young people to broadcast on the airwaves, and he could see the benefits from the outset. And whilst Callum was nervous before he interviewed Mark, he did comment that even Councillors are friendly, and that Mark made it easy for him.  An experience which Callum may not have had the opportunity without the station".
Silver FM was deemed a success, and the team behind Silver FM will be meeting for a debrief in the coming weeks to decide upon the next chapter for the charity radio project. 
You can find out more about the history of Silver FM by visiting Silver FM Website
SILVER FM OBJECTIVES
To promote local, community driven radio
To give children a dynamic and social learning experience and to participate in their local community.
To raise money for local charities
Silver FM is a project supported by W3RT (Watford & Three Rivers Trust)