Cassiobury Park May Day Celebration
27th April 2017
... Comments
---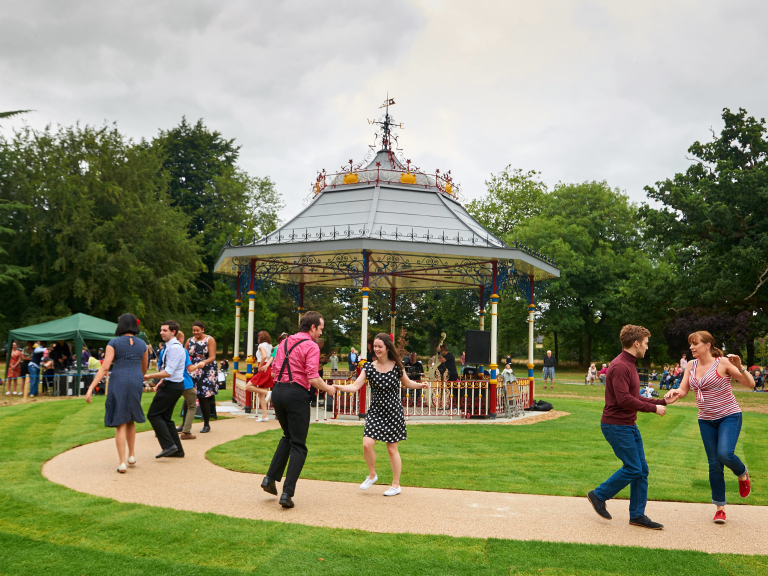 Come and see Morris dancers at the award-shortlisted Cassiobury Park bandstand this Bank Holiday Monday and take part in craft activities to welcome spring to the historic beauty spot!
The festivities – organised by Watford Borough Council – will run from 1pm to 4pm, organised as part of a £6.6m regeneration of Cassiobury, once home to the Earls of Essex. The regeneration is funded by the council and the Heritage Lottery and Big Lottery Funds.
Last year the bandstand was restored and repainted in the colours of the coat of arms of the Capel family, who held the Earl of Essex title. It was then returned from the town centre to its original home in the park – where it originally opened in 1912. In its heyday during the early half of the 20th century, events at the bandstand attracted crowds of more than 1,500 people. 
Now, big events at the restored bandstand attract similarly large numbers of people – more than 2,000 people attended the council's JiveSwing festival there in September last year. The council's bandstand has been so successful that it has now been shortlisted for the Horticulture Week Custodian Awards' Best Parks Restoration/Development Project accolade.
The Cassiobury regeneration programme has also seen £350,000 put into the refurbishment of the Edwardian Cha café. Two new outdoor gyms have been opened as part of the project – which are free and easy to use, so everyone can enjoy them.
Paul Rabbitts, Head of Parks for Watford Borough Council, said: "Our bandstand really is a sight to be seen – especially when there's an event on. Our Bank Holiday Monday celebration will be fantastic. Why not pop along and enjoy our refurbished Edwardian Cha Café nearby while you're there? Cassiobury Park is a fantastic place for a day out – and we'd love to welcome you to this historic beauty spot on Monday."
The mixed-sex Wicket Brood Border Morris group – who practice in Bricket Wood – and the Whitehorn Morris ladies group – who practice in Harrow – will be performing for park visitors.