Prepare for your new arrival with these Walsall baby businesses
From bump to birth, here at The Best of Walsall we have got everything you need to prepare for your new arrival. From baby scanning to personalised sleepsuits, we recommend trusted local businesses for all stages of your journey to parenthood. 
Pregnancy Services
Pregnancy Scanning
Genesis New Beginnings Baby Scanning is a family-run private baby ultrasound clinic based in Bloxwich, Walsall. They offer a range of services including reassurance scans, gender reveal scans and are one of few clinics in the West Midlands to offer 4D/HD scans. Follow your pregnancy from 6 weeks right through to birth with a variety of scan packages from just £39 with Genesis New Beginnings. Contact 07545 989180 for more information.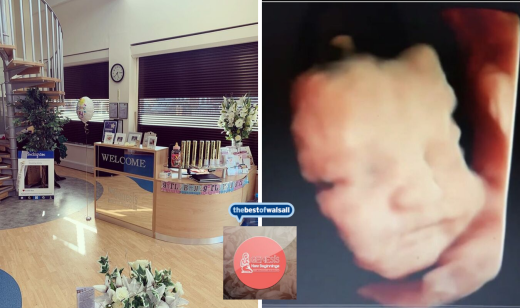 Pregnancy Yoga
Bloomingful Births, based in Bloxwich, Walsall also offer pregnancy yoga classes to expecting mothers. As a trusted and experienced provider, you can be assured that you are in safe hands. Pregnancy Yoga has been proven to improve sleep, reduce stress and anxiety, increase the strength, flexibility and endurance of muscles needed for childbirth, and decrease lower back pain, nausea, headaches and shortness of breath. These classes are also a great way to meet other Moms to be! Classes are held in Aldridge, Lichfield and Cannock. For more information or to get in touch, call Bloomingful Births on 078525 08879.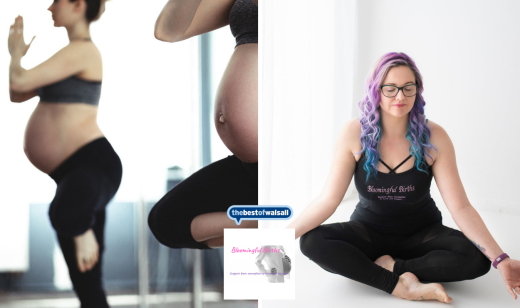 Pregnancy Massage
Want to ease the aches and pains of pregnancy? Walsall Mind and Body offer a range of massage services suitable for pregnant women. The friendly and welcoming clinic guarantees a peaceful experience where you cat relax and enjoy the experience as soon as you enter the premises. For more information call Walsall Mind and Body on 01922 649142 or 07495893708.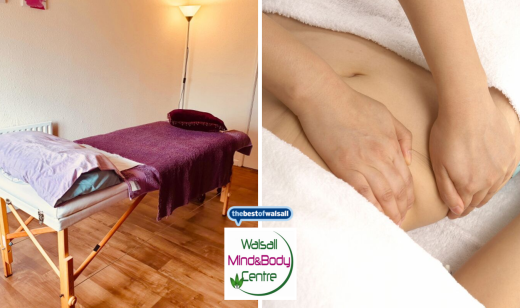 Bloomingful Births are also experts in Pregnancy Massage. With over 10 years experience you can rest assured that you and your baby are in safe and experienced hands. For more information or to get in touch, call Bloomingful Births on 078525 08879.
Other Pregnancy services
Bloomingful Births also offer a wide range of other pregnancy services including Birth Preparation classes, a Doula service  and Reflexology. They also offer a wide range of postnatal services. For more information call Bloomingful Births on 078525 08879. 
Baby Shopping


Baby Gifts and Accessories


Looking for that perfect card or gift for a special new arrival? Heaven Sent Cards and Gifts Ltd based in Walsall Town Centre and Aldridge, are a trusted and local 'hidden gem' offering a range of unique cards and gifts for Babys and Christenings. Owners Ros and Trevor pride themselves on understanding customer requirements and are dedicated to finding the perfect gift. Including soft toys, 'New Baby' teddies and keepsake items such as photo frames and ornaments.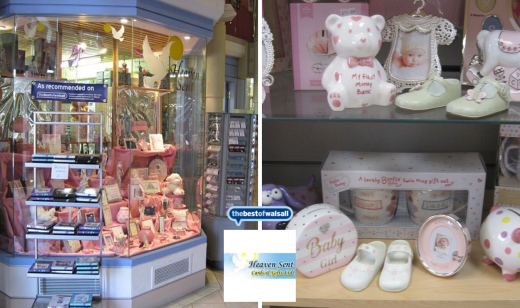 Whether you're looking for a new baby gift, some new babywear or new decor for the baby's room, Dotty May Baby Boutique are the perfect choice with their variety of products and personalised items. Dotty May Baby Boutique in Walsall offers a variety of personalised items including sleepsuits, baby bedding, hats and bibs, pillows and blankets, the perfect gift to remember for your little one.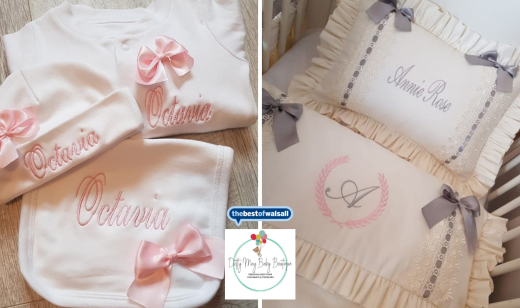 For unique gifts why not take a look at Dynasty Laser Design who make a range of engraved wooden gifts including beautiful photo frames. These gorgeous gifts can be personalised for an extra special touch. From photo frames to plaques and candle holders to keyrings, the talented team Dynasty Laser Design can turn your ideas into reality!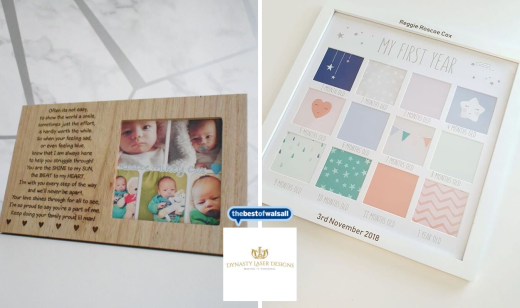 For unusual and crafty gifts for new mothers, make a visit to Coopers Crafty Corner where you will be able to find a fantastic range of handmade crafts with a number of one of a kind pieces. With a passion for beautiful and quality gifts and handmade crafts, Coopers is well known for its magical gifts including ornaments, Himalayan lamps, crystals, jewellery and scarves.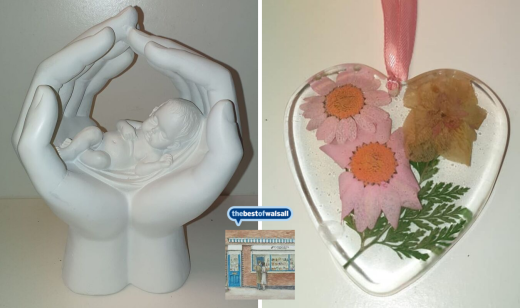 To view all recommended gift shops in Walsall please click here. 
Baby Equipment
Peek-A-Boo Pram Shop located on Bloxwich High Street is Walsall's newest preloved pram shop offering a variety of pre-loved items are available including prams, pushchairs, stairgates, car seats, and moses baskets. Why not pop in and take a look at the wide range of high quality refurbished and nearly new stock. All stock is good quality, clean and you can save up to 60% on new prices! For more information, contact Peek-A-Boo Pram Shop on 01922 277757 or visit the store at 183 High Street, Bloxwich and have a look at the stock available.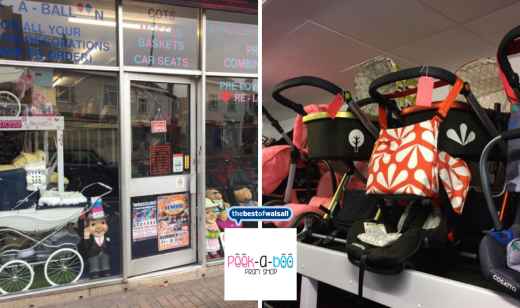 Baby Activities
Baby Massage and Yoga
Bloomingful Births also offer baby massage classes. Relaxing baby massage classes to bond with your baby and ease common symptoms of things like teething and digestion can also aid in better sleep patterns! A warm relaxed class where you can meet other moms and babies while bonding with your own baby. Baby massage is a great way to relax your baby, it is also relaxing for you too! FREE oil and handouts are given throughout the course. Classes are held at Pelsall Village Centre and Blossoms on the Common.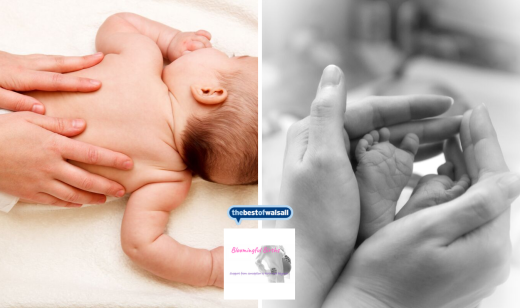 Baby footprint Wworkshops
Potsy Pamsy Paint a Pot Studio offer sessions hand and footprints. These are a great way of creating special keepsakes for your little one. This baby pottery painting makes perfect gifts to pass along to family and friends.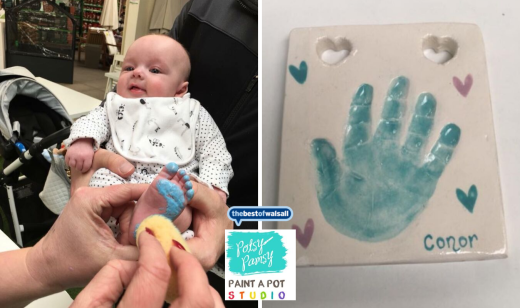 Music and Drama classes
For a fun, exciting, and imaginative activity classes for your new baby, Pyjama Drama based in Walsall provide sessions combining music, drama, movement and play for babies and children up to 7 years. Classes are taught in public sessions at daycare centres and aim to develop babies and children key social skills through imagination. For more information, contact Pyjama Drama on 01922 896990.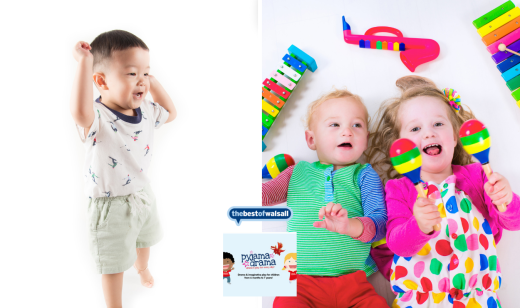 To view all recommended activities for children please click here.