New Air Route to open
20th February 2014
... Comments
---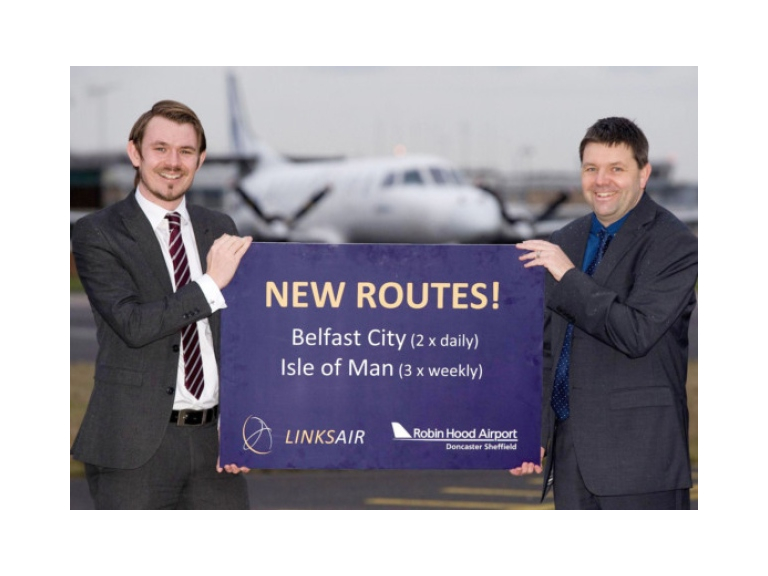 LinksAir has announced the one of it's new routes is to be to the Isle of Man.  
Picture :- Chris Harcombe (left) head of aviation development at Robin Hood Airport Doncaster Sheffield with Roger Hage (right), LinksAir commercial manager.
"Our new three-time weekly service to the popular Isle of Man is Yorkshire's only link to the island, famous for its world famous TT motorcycle race event and its rugged coastline and sandy beaches. It is also a convenient link for the financial services sector."
Ros Jones, Mayor of Doncaster, said: "Doncaster Sheffield Airport is one of our great assets. We are delighted that they are adding new routes to their current destinations which will undoubtedly make travelling from Doncaster a more attractive proposition for people from across Yorkshire.
"Routes to Belfast and the Isle of Man will benefit both business and leisure travellers and we also look forward to welcoming passengers flying into the borough."
The new Isle of Man service will commence on April 14, operating on a Monday, Friday and Sunday, allowing for short leisure breaks and business trips.
Flights to both Belfast and the Isle of Man can be booked with immediate effect on www.linksair.co.uk, via our customer services team on 0844 800 2411 or via your local travel.
You can read the full story here