What to look for in a good local electrician?
21st April 2016
Author: Mark Luckman
Comments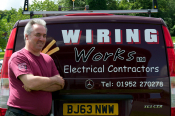 Finding the right electrician to carry out electrical work, repairs or tests in your home or business can be a challenge.
With so many electricians out there, how do you know which one will be trustworthy, reliable and the right one for the job?
Wiring Works in Telford are a team of qualified electricians who undertake a wide range of domestic and commercial electrical projects.  With many years' experience in the industry, they tell us some of the characteristics that you should find in a good electrician:
Honesty – a good electrician will be honest and work within their price estimate.
Qualified - they should be well educated and know the job inside should problems arise.
Clear, practical thinking – the ability to work under pressure and in difficult conditions is essential. 
Good communication skills - for certain jobs, an electrician will need to work well as part of a team and have the ability to communicate with other tradesmen and most importantly, their customers.
Flexibility - electricians may need to work unusual hours so flexibility is key.
Technology – electricians should be up to date with the latest technology
Safety – an electrician will always ensure the safety of himself and his clients
Excellent problem solving skills – there are many problems that can occur, so making the right decision is vital.
If you are looking for an electrician in Telford and with all of the right qualities, qualifications and experience, call Wiring Works today on 01952 427859.