Flushed with Success - Rimless Toilets
19th October 2018
... Comments
---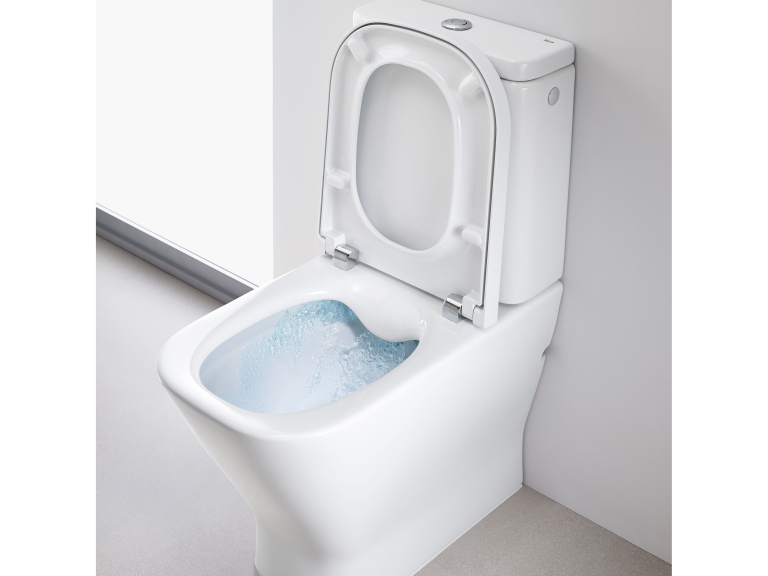 What is a rimless toilet and how does it work? 
It might be difficult to imagine what a rimless toilet must look like. And when you do see one, you can be excused for not immediately being able to decipher the difference, because it's inside that we discover the difference - there is no rim around the inside of the toilet bowl. 
Though it may not look much different, the removal of the rim makes a big difference. A rimless toilet makes for significantly easier cleaning and a clear improvement in hygiene. There is no build-up of evil bacteria and no possibility for limescale to lurk. There is nothing except a smooth bowl that sparkles after every flush.
Most rimless toilets use a direct flush technique that shoots water around the basin of the toilet rather than have the water be redistributed in the manner of a traditional rimmed toilet. This direct flush washes the entire rimless toilet pan more efficiently.
And though the flush is far more powerful, the action itself is actually more economical than traditional rimmed toilets, so you save on those horrid water bills. 
We don't see any real drawbacks to rimless toilets - we think they are a fantastic product that pushes an already-successful design and in doing so has created a new industry standard. We think they meet the ever-growing modern consumer demand for the absolute cleanest products and so it is understandable why they are taking off in popularity so much at the moment. Our customers absolutely love them and we're sure you will too!
See How Rimless Toilets Work Rimless Toilet in Operation
For more information on Rimless toilets or any bathroom design and installation advice, call the experts at R&R on 01952 610999.