Anything But Ordinary Social Club
Compass Wellbeing
Unit 7 Belvedere Trading Estate
Taunton
TA1 1BH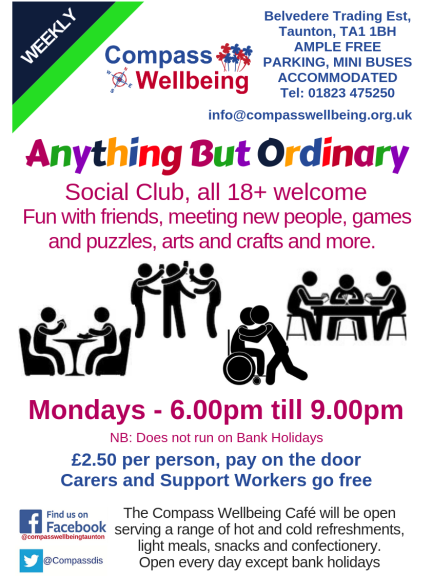 Anything But Ordinary Social Club Every Monday, 6pm - 9pm (Except Bank Holidays) £2.50 per person, carers and support workers go free All 18+ welcome
A safe supported environment where people can have fun with friends and make new friends. Share a chit chat over coffee and cake, challenge each other with games and puzzles, let their creative side come out and learn from each other with varying arts and crafts projects. Maybe get the munchies out and relax with friends and a film.

The Compass Wellbeing Cafe will be open throughout, serving a range of light meals and snacks, hot and cold beverages, cakes and confectionery.

We will ask those attending what they would like to see at future sessions, so you are in control. This club can grow into whatever you want it to be!
Future dates
Monday 9th September 6:00pm until 9:00pm
Monday 16th September 6:00pm until 9:00pm
Monday 23rd September 6:00pm until 9:00pm
Monday 30th September 6:00pm until 9:00pm
Monday 7th October 6:00pm until 9:00pm
Monday 14th October 6:00pm until 9:00pm
Monday 21st October 6:00pm until 9:00pm
Monday 28th October 6:00pm until 9:00pm
Monday 4th November 6:00pm until 9:00pm
Monday 11th November 6:00pm until 9:00pm
Monday 18th November 6:00pm until 9:00pm
Monday 25th November 6:00pm until 9:00pm
Monday 2nd December 6:00pm until 9:00pm
Monday 9th December 6:00pm until 9:00pm
Monday 16th December 6:00pm until 9:00pm
Monday 23rd December 6:00pm until 9:00pm