Swansea Sporting Events not to miss this summer 2016
24th June 2016
Author: Kristian D
Comments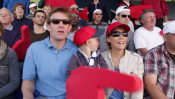 Since having surgery a few years ago for a sporting injury I have not been able to participate in many high impact events such as the Swansea Half Marathon as I had hoped. That does not mean I miss out, there are events I take part in and others I happily attend as a spectator. Here is how you can take part in this summer's spectrum of sporting events with a rundown of my sporting calendar for the summer. It's busy! I hope you enjoy!
JCP Swansea Half Marathon
26th June 2016
Swansea City Centre
The JCP Half Marathon is back for its third year. With the race growing to 8000 entrants this year, the route takes place through the heart of the City centre, along the stunning coastline and taking in all the major Swansea landmarks.
S

pectator spot:

 Mumbles slip, opposite Mumbles' pitch and put is a great place to see the runners as they reach Mumbles  Pier and turn for their last leg, it's an early start but cheering on the runners really does give them the boost they need to get to the finish line, and for such a good cause.
Top tip: Mumbles offers a great selection of café's for coffee and breakfast! The kitchen table for poached eggs with smoked salmon or maybe a Welsh fry up at Trams, served with cockles and lava bread of course!All that cheering, you will surely build up an appetite.
Price: Entry for runners starts at £33, but of course spectators attend for free
Find out more




Wales National Airshow 2016
2nd & 3rd July
Swansea Bay

It's back and bigger and better than last year. Probably my favourite event of the summer,  when history and excitement collide. The line up is fantastic and it is a free day out for all the family. Displays will now include the Red Arrows, the Eurofighter Typhoon, the Bronco Demo Team, Static Chinook, Team Yakovlevs, Team Raven, the Tigers Parachute Display Team, Breitling Wing Walkers, Gerald Cooper (Extreme), the MiG15, BBMF, The Royal Navy Black Cats and B17 Sally B. Plus a whole host of ground displays and family entertainment.


Spectator spot:

 

For the best view, pitch your deck chair anywhere on the 6 mile sweeping coast of Swansea Bay and be prepared to be wowed! Cafe 360 and The Junction are perfect for your lunch break. 


Top tip:

 

Don't forget your sun screen if the sun is out! 


Price:

 Free
Find out more





Beach Rugby Wales 2016
23rd July 
Swansea Bay

Now in it's 11th year, Beach Rugby is played as touch rugby, from 6 teams in 2006, over the years the tournament has grown from strength to strength with this year 36 teams taking part and teams entering from all over the UK. It is a fun day and suitable for all the family, whatever the weather. The day is a 'Festival of Rugby'.

Spectator spot: This event takes place on the beach right in front of the Civic Centre in Swansea where you can park your car and get a front row seat!
Top tip: The tournament has attracted International players, past and present, Richard Hibbard, Shane Williams, Paul James, Ian Gough, Garin Jenkins and Arwel Thomas for Wales, Ireland's Tommy Bowe, All Black's Jerry Collins and Marty Hollah to name a few.
Price: Free
Find out more  





Race for Life 5k
24th July, 11.00am
Singleton Park, Swansea

The Swansea route is an exciting new course for 2016, taking you on a scenic route through the very popular Singleton Park. It features a mixture of terrain including paths and grassed areas. There are some flat and slightly hilly areas within the course.


Spectator spot:

The start line is near the top end of the park, next to Swansea Botanical Gardens, which is always a great place to cheer on the girls as they begin their challenge!


Top tip:

Bring your family, friends even the dog is welcome! You can stroll around the stalls providing entertainment and refreshments and cheer the participants through the finish.


Price:

Adult entry £14.99, Child entry £10.00, under 6 entry free and no registration needed. Spectators and supporters also have free entry. 
Find out more 





Gower Sprint Tri
6th July 8:00am
Port Eynon, Gower, Swansea

Located in the picturesque village of Port Eynon, Gower and the winner of the prestigious British Triathlon Event Of The year, the Gower triathlon is a well designed course that is tough but fair on competitors. An exciting sea swim in blue flag waters provides the challenge before athletes switch to their bikes as they head inland to navigate climbs, technical descents and fast flat sections. The final run discipline takes advantage of the natural surroundings with a two lap multi-terrain course consisting of sand, grass, footpaths and roads. The race is specifically staged on a Saturday to ensure that a full weekend of fun can be enjoyed by all the athletes and their families. Camping facilities are available at the race HQ, a pasta party on the Friday night and a post race party on the Saturday including fun children's races, BBQ and live band – it really is the event for all and not to be missed.
Spectator spot: It's right on the beach front so you won't miss it!
Top tip: The great thing about this race apart from the amazing course is the ability to make it a weekend break away. What better than to spend the entire weekend away in the Gower. While the race is a big thing for the athletes, avoid the mad rush home and join us for the post race party in the Ship Inn, and stay at either of the 2 great campsites New Park and Carregwlyd.  
Price: Spectators watch for free
Find out more



Ospreys National Sailing Championships
11th - 14th July
Swansea Bay

The Osprey Nationals is a major Championship in the British sailing calendar, and 40-50 boats are expected to compete in this four day Championship to find out who are the best helm and crew in the land. Mumbles will be the first Nationals with the Mark 5 design boats competing.
Spectator spot: For those who want to see the action close up, there is the opportunity to see the fleet prepare their boats and launch into the bay from the Mumbles seafront and Knab Rock each morning, then sail back in and pack away each afternoon.
Top tip: The fleet should make an impressive sight in Swansea Bay with their large colourful spinnakers and high speed planning when the wind gets up. Bring your binoculars!
Price: Free
Find out more



RNLI Mumbles Raft Race
31st July
Mumbles, Swansea

The 31st annual Raft Race in aid of the RNLI is back! Sunday 31 July is the date to put in your diary as hundreds of rafts will be battling to have the most fun while paddling from Norton to Knab Rock.Each year the raft race raises over £15,000 for the RNLI Charity.

Head down to the Mumbles Shoreline at 5pm for an afternoon of fun, whilst enjoying the gorgeous settings of Mumbles. The race starts at Norton and finishes at knab Rock
Spectator spot: Stroll along the Mumbles promenade heading towards the pier, you will not be disappointed. 
Top tip: If you get there early Verdi's ice cream parlour and restaurant is a must and has the best views of the winning rafts crossing the line. 
Price: Free to attend but sponsor a team if you can!
Find out more



Mumbles RFC 4 day Rugby Festival 2016
Inc. Cracker 7s tournament 
22nd - 25th August 
Underhill Park, Mumbles, Swansea

A four day festival of Rugbyness, kicking off on the Friday night when Mumbles hosts Swansea at 6.30pm. Mumbles youth face Resolven on the Saturday afternoon at 2pm followed by both senior teams at 4pm. Sunday sees the famous Cracker 7s tournament kicking off at noon. Wrapping up on bank holiday Monday with a family fun day and junior tournament from 10.30am onwards. There is plenty for everyone (even if Rugby isn't your thing) with a beer tent and BBQ on all four days. 
Spectator spot: Take a picnic blanket and settle in on the side line, with bar tent and BBQ to hand you can't go wrong. 
Top tip: Don't miss out on the £3000 prize raffle
Price: Purchase a programme on entrance



Gower Macmarathon 2016
17th September
Rhosilli Bay, Gower, Swansea

Want to take on a marathon, why not walk for Macmillan - 22 mile challenge! This scenic walking marathon will take you on a journey 22 miles along the beautiful coastal paths and stunning beaches of the Gower Coastline. Walk at your own pace and enjoy the stops for ice cream, refreshments or a cone of salty chips! It really is the best way to see the Gower coast. 
Spectator spot: The entire walk is 'spectatular'
Top tip: If this feels a little ambitious then sign up for the 14 mile walk from Port Eynon. What ever you decide, you will finish at Mumbles cricket club for refreshments - its for a fantastic cause and so get your walking boots brushed down and get signed up! 
Price: £20 registration fee
Find out more



Admiral Swansea Bay 10k
18th September
Swansea Promenade

The Admiral Swansea Bay 10k is one of the UK's premier road races with a flat, fast and scenic route alongside the magnificent views of Swansea Bay.  The race is open to all abilities aged 15+. 
Spectator spot: There really are so many places to cheer on the runners as they run along the bay. My favourite is Blackpill which is a short walk to the West Cross Inn and the Junction for snacks and refreshments.
Top tip: This year they are looking for motivational and enthusiastic volunteers to assist at this year's Admiral Swansea Bay 10k Race so why not get involved
Price:  Affiliated: Adult main event - £22.00, Unaffiliated: Adult main event - £24.00, Spectators free
Find out more


Enjoy your sporty summer in Swansea!
Olivia Brace
Spectator