An inside look at daily life in & out of Thirty Nine 10 wine shop
Take an inside Look at my daily life in & out the store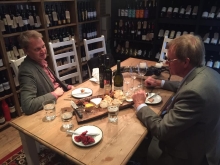 24th July, I had the honour to take Australia's legendary winemaker, David Traeger over to George Street Canteen for a cup of "Rosie Lee" before with my importer/sommelier friend, Alastair we sat down together in the store and had a "light" charcuterie - cheese board for lunch while tasted the recent releases from David's winery.

His 2010 Maranoa, a 100% Verdelho wine is always been a great hit, and now the 2012 arrived in stock and will be in store from next weekend. You do not wanna miss-out on this incredible white! 

The last few bottles of the remaining 2010 vintage is still available in the 2 Michelin star Gidleigh Park Restaurant in Dartmoor National Park.

On the 1st September, we had a fantastic dinner party with Chef Sainlo, where I was pairing his dishes with some amazing wines from my store. It was great fun, as you can see. 

If you are looking for a private caterer, I can highly recommend the Sainlo family business for wedding, private parties, or just to go and enjoy them at their garden parties.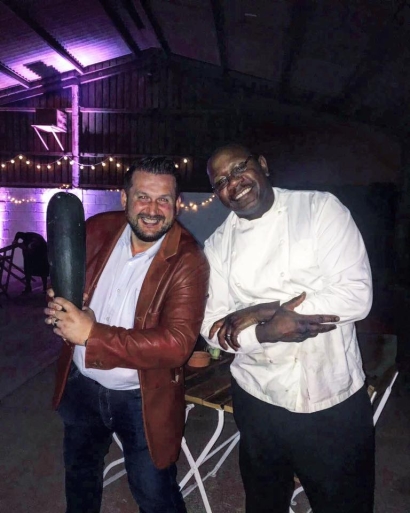 We had the Taste The Dirt, also the Sommelier Wine Awards Winning Wine Tasting, but the most popular evenings still are my in-store private tasting evenings. This is available for groups of 4-6-8 but joining forces with my favourite local restaurant, Dylan's, we can use their private room up to 14 people. Sean with his team in the restaurant created some delicious dishes for my events. 

If you wish to book a private tasting with your family, friends, or workplace, please do not hesitate contact me!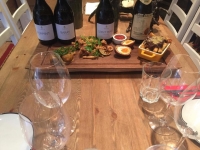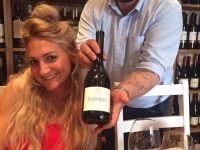 On the 3rd September, 9.24pm, I received a phone call from my friend, Alastair, that he is coming to visit me the following day with export manager/sommelier Gianluca Picca from Ceretto winery, Piedmont, Italy. Ceretto is one of the most iconic winemakers of Italy. I remember the first time when I was fortunate enough to taste their wines on the 24th August, 2012 with Master of Wine and Master Sommelier Ronn Weigand. Ronn arrived to a winemakers dinner party in Tokaj, Hungary that I was hosting and catered accordingly to Tokaji with these chunky reds...it was a challenging dinner party.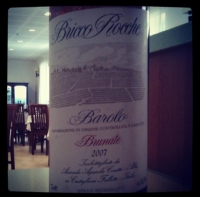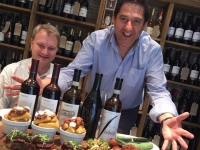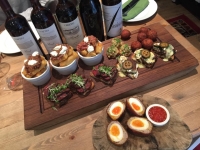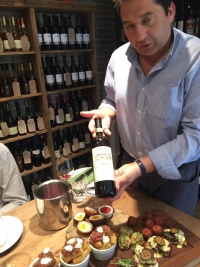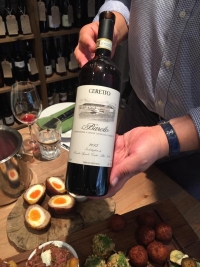 On the 4th September, 2 minutes to 12, I texted my friend, Alastair to find out if they would like to grab something to eat while we are tasting the 12 bottles of wine Gianluca was  bringing with himself to my shop.
The answer was: "yes, please and we are there within 20 minutes".

Now, Ceretto not only makes some of the World's finest wines but they are the only winemaking family in this planet owning a 3 Michelin star restaurant in Alba. Yes, Enrico Crippa's Piazza Duomo is owned by Ceretto.
Panic, panic, panic...well, I popped into Dylan's just over the road and went to see Drew upstairs in the kitchen, sweating and really worried...quickly explained the situation to him, the tasting profiles of the wines and of course that there will be no pressure on him, as he will be serving his dishes to a sommelier who works for Ceretto with a 3 Michelin star restaurant.

Ladies and Gentlemen,
I would like to congratulate to the team at Dylan's! They put everything  together within half hour, to perfection. We had a fantastic lunch in my store and the guys made our town's name echoing through the kitchen of Enrico Crippa's restaurant on Gianluca's return to Italy.

I can't find the right words to express my feelings, but I am very proud and glad to be part of such an amazing community and to have a business next me with such talented guys like the team in Dylans.
Thank you very much.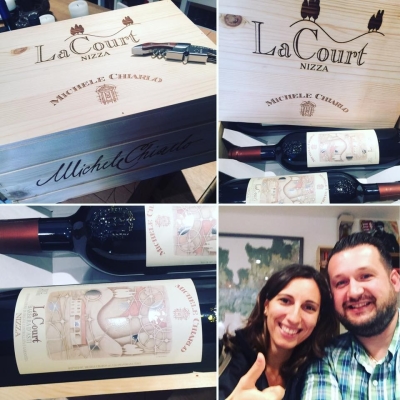 On the 6th September, I had another visitor from Piedmont, Italy, this time from the Barbera specialist Michele Chiarlo's export manager, Erica, came to visit me.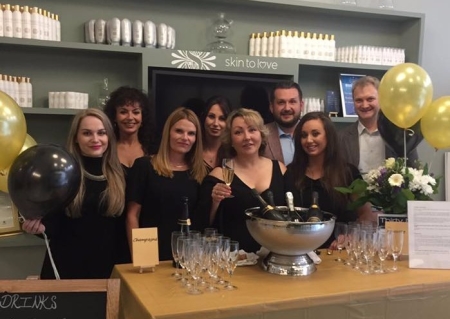 On the 7th September, we celebrated the 4th birthday of the fantastic Skin to Love Clinic where we were serving our multi-award winning vintage Prosecco from Ville d'Arfanta and Champagne Andre Jacquart, Experience, Brut, Premier Cru, NV. 
On the 19th September, I was fortunate enough to meet the sommelier legend, Paolo Basso and it was such an honour to taste wines with him and to taste his own wine as well.

Paolo Basso was The Best Sommelier of Switzerland in 1997, The Best Sommelier of Europe in 2010, and the The Best Sommelier in the World in 2013.

His 100% Merlot, a blanc de noir ( white wine made of black grapes ) Il Bianco di Chiara ( named after his daughter ) has arrived in the UK and available to order via the website by the case, or you can email me if you are interested to purchase it by the bottle. My shop will be the first wine store outside of London ( maybe the first in the UK ) to have in stock but the first webshop to retail it for the public in the country.
The week is not finished, yet, and there are many more exciting moments to follow.

Friday, on the 22nd, I will be tasting wines with two Master Sommeliers from France in London, we gonna go through 42 Premier Cru Burgundies that just arrived to the UK in the morning from 9am so I can make it back on time to open the shop.

On the same day, new wines will be arriving to the store.

One of them will be the 1997 vintage Chateau Sociando-Millet from the Medoc, Bordeaux, France; a finely aged, mind-blowing claret from a very challenging vintage.

There will also be a new fizz arriving from Champagne Brice, from Bouzy that will be an amazing option for Christmas, a multi-award winning "Grand Cru" Albarino from Angelo Sequieros and many more.

I hope to see you in the store in the next few days to share our wine stories and help to pick some amazing wines for your weekend.

Thank you very much.

Ciao,
Ferenc