Tree planting celebrates The Forum in Southend
29th April 2013
... Comments
---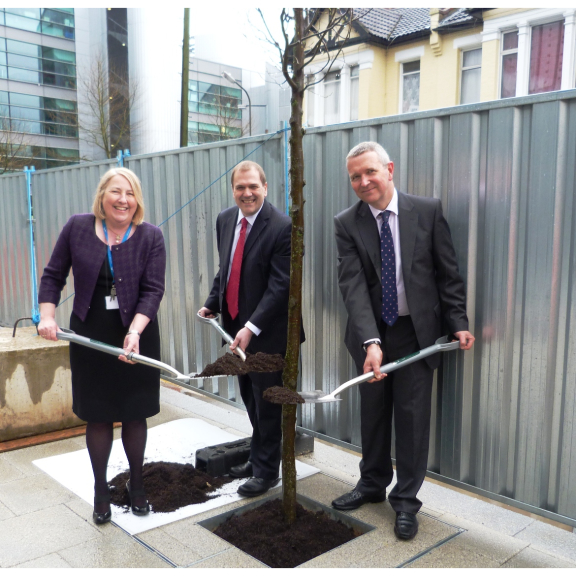 The new public square outside The Forum Southend-on-Sea is starting to spring into life following a special tree-planting event.
The event helped symbolise The Forum Southend-on-Sea - cultivating a growth of knowledge taking root in the Town Centre. It will be a living, breathing space for university students, college students and the general public and is the first tri-partnership project of its kind in the UK.
Officials from the three partners behind the innovative Forum Southend-on-Sea project ceremonially helped plant one of the new young trees in Elmer Square, Southend.
They were: Councillor Nigel Holdcroft, Leader of Southend-on-Sea Borough Council; Bryn Morris, the Registrar of the University of Essex; and Angela O'Donoghue, Principal and Chief Executive of South Essex College.
This tree-mendous newly created open space will form a welcoming vista outside the Forum Southend-on-Sea. Inside the Forum will be the new joint public and academic library, state of the art teaching and learning facilities for both the University of Essex and South Essex College and also the Focal Point Gallery.
Southend-on-Sea Borough Council's Executive Councillor for Culture and Tourism, Councillor Derek Jarvis said: "Today's ceremonial tree-planting has been another milestone in the journey towards the opening of the Forum Southend-on-Sea which is a hugely exciting joint development."
Registrar of the University of Essex, Bryn Morris said: "I am delighted we have reached this stage in good time for the opening at the end of September. In six months The Forum Southend-on-Sea will open its doors to the public and students. These trees will help frame this superb new facility for the town."
Principal and Chief Executive of South Essex College, Angela O'Donoghue said: "With the College situated opposite The Forum Southend-on-Sea it's been great to see it grow from the rubble of the old Farringdon car park up to its near-completion. Students and staff are certainly excited about setting foot inside the building when it opens in September and this ceremony has taken us a step closer to that."