Leaves of Life launched in Southend
16th April 2013
... Comments
---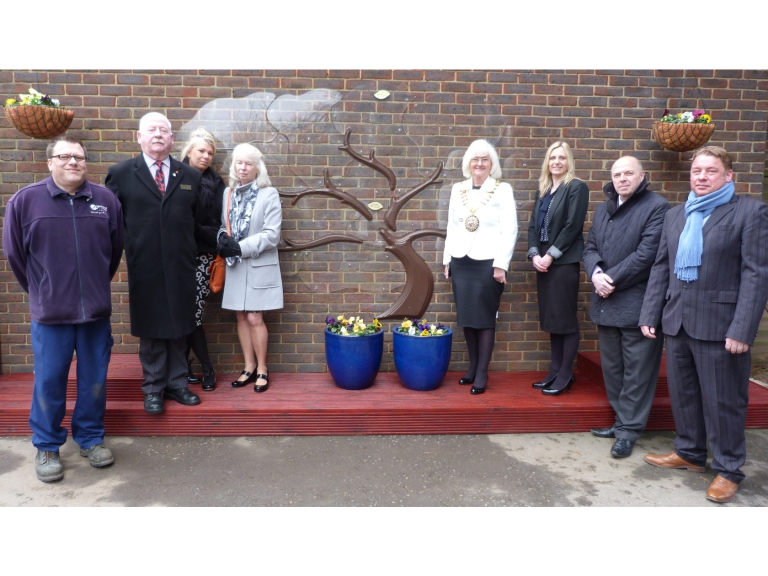 A new public memorial in Southend for people who wish to celebrate the life of their loved ones, has been ceremonially launched.
The first of its kind in the county, Leaves of Life offers bereaved family members and friends a comforting and unique place to grieve and remember.
The tree shaped memorial, which has been crafted by David Hall from GBL Associates, stands on the wall at the rear of Southend Crematorium, Sutton Road, Southend, SS2 5PX between the Chapel and Gardens of Remembrance.
It was officially launched by the Worshipful the Mayor of Southend, Councillor Sally Carr, with guests including Mrs Faith Bailey, and her daughter, Mrs Alison Smith who have dedicated the first leaf to their late husband and father John. Also present were crematorium staff and representatives of GBL Associates Adorning the tree branches are spaces waiting to be filled with bronze and gold coloured leaves dedicated in memory of loved ones.
Southend-on-Sea Borough Council's Executive Councillor for Corporate Services, Councillor Andrew Moring said: "The passing of a family member or close friend is a sad and emotional time. "We feel strongly that the new Leaves of Life memorial will become something special for anyone who has been bereaved. It will be a much needed place to remember loved ones and provide comfort to people in our community. Leaves of Life is a new and very special addition to the town. "The Crematorium is open between 8am and 5.30pm every day and visitors to the memorial are most welcome during these hours. We are honoured to be able to offer our community something so meaningful in heartbreaking times."
Those wishing to make a dedication can choose to buy a small bronze coloured or large gold coloured engraved leaf, comprising of their loved ones name and date of birth and death. The leaf will stay on the tree for 12 months and can be renewed on a yearly basis. It is hoped that further Leaves of Life public memorials will soon be available in neighbouring towns throughout Essex.
Leaves cost £50 or £75 each. To dedicate a leaf or to find out more, please visit: www.leavesoflife.co.uk or call 01702 221665.