Car Boot Sales in the Rugby Area
15th March 2010
Author: Vic H
Comments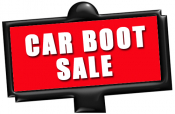 Last updated 2013
Car boot sales are always a great way to clear your clutter and make some money at the same time.
Here are some Car Boot Sales in Rugby and the surrounding area to choose from:
---
Rugby Town F.C. Supporters Club Car Boot Sale
Butlin Road, Rugby, Warwickshire CV21 3SD
Tel: 01788 331 914

Sunday mornings
Gates open for sellers at 7:00am
Pitch Fees: £4
All pitches are on hard standing ground!
Buyers from 7:00am until 12:00pm
Buyer Entrance Fee: Adults 50p, OAP's 30p and Children Free
Toilets on site
Refreshments available
Volunteers from Rugby Town F.C. Supporters Club run this Car Boot Sale and all profits raised are ploughed back into the Rugby Town F.C.
---
Crick Car Boot Sale 
Playing Fields, Main Road, Crick, Northamptonshire NN6 7SX
Tel: 07977 471 613
Sunday mornings
Pitch Fees: All booters £6
Buyers from 8:00am until 12:00pm
Buyer Entrance Fee: Adults 50p, OAP's 30p and Children Free
Toilets on site
Refreshments available
---


Dunchurch Car Boot Sale
Alwyn Road, Dunchurch(Bilton), Rugby, Warwickshire CV22 7RP
Tel: 07973 490 867

Saturday mornings
Gates open for sellers at 6.30am
Pitch Fees: £6 car, £8 car with trailer and £10 large van
Buyers from 8:00am until 12:00pm
Buyer Entrance Fee: Adults 50p, OAP's 30p and Children Free
Toilets on site
Refreshments available
---
Flore Car Boot Sale
Brodie Lodge Playing Field, Spring Lane, Flore, Northampton NN7 4LS


1st Sunday of each month - May until September 2013
Gates open for sellers at 7:00am
Pitch Fees: £6 car and £10 van – No catering vans or food selling allowed
Buyers from 9:00am until 1:00pm
Buyer Entrance Fee: Donations - All proceeds go towards the maintenance and improvement of the Brodie Lodge Playing Field and Pavilion.
Registered Charity
Toilets on site
Refreshments available
---

To find a full list of events including Car Boot Sales in Rugby and local area click here to view The Best of Rugby Events
---