An artisan on my doorstep !
29th May 2015
... Comments
---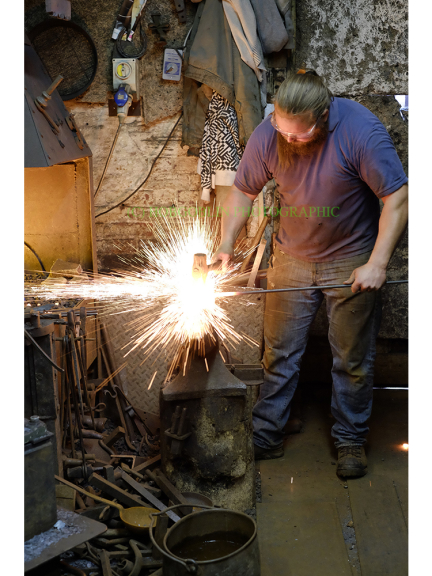 Just when you think that you know every business in your immediate vicinity and that you know most of the people that work and live nearby, it is nice to get a surprise and discover that you don't know everything after all ! So it was that by chance, when wandering around my neighbourhood, that I spotted a sign for a designer blacksmith pointing down a little alleyway that I had never noticed before. I decided to have a little sticky nose and was delighted to find a fully working blacksmith's forge at the end of the alley called Clutterbuck. I met up with the proprieter, Peter, who introduced me to his employee Tom and when I asked them if I could come along at some point and take some photographs, they could not have been more obliging ! They arranged for me to come back that afternoon and the forge was fired up and waiting when I arrived.
I took many pictures of Tom at work and he was very patient whilst I got the pictures that I wanted and it was a pleasure to watch him crafting a little sword necklace from a piece of glowing metal. The workshop itself was fascinating and looking at the many various pieces of work that had been finished and was waiting for customer collection gave a good insight into the creativity and range of work undertaken.Given their cordial welcome and animated discussion and the quality of work on show, it would be a no brainer for me if I needed some work doing, be it a design from scratch or repairs to existing metalwork such as a gate or railings.
Just to finish, I have to say it was a nice surprise to find a quality specialist business that I never knew existed and I hope to discover more !
Should you require the work of a blacksmith, this is the place to go !