Benefits of Composite Decking
1st March 2017
Author: Richard Taylor
Comments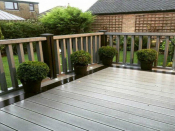 Although the sun isn't shining yet, it is a good idea to start thinking about ways in which you could improve your garden and transform it into something you and your family can enjoy whether it be decking, fencing or the addition of garden rooms.
Composite Decking is a traditional timber mixed with other recycled materials and it is proving to be a great option for many homeowners throughout the UK – here The Composite Wood Company  in Oldham tell us the benefits of installing this award-winning timber alternative as opposed to traditional timber decking:
Low maintenance - Traditional timber decking requires staining or painting to protect it from the elements.  When you install composite wood, it is fit to use as soon as it's installed.  No protective coatings are required.
No more scrubbing - Composite decking makes the annual chore of scrubbing and recoating your decking a thing of the past.
Cost Effective – traditional timber decking loses its colour and may need replacing due to warping and splitting.  Composite decking is cheaper right from the off as it requires no staining and has added strength for protection against fading, splitting and warping.  Composite Wood decking is also guaranteed to last for at least 10 years so you can focus on the important stuff like enjoying your garden.
Safe– composite wood decking has safety features e.g. it is splinter free and completely slip-resistant so you can still safely use your new garden space when it's wet.  Composite decking by The Composite Wood Company has built in added protection against mould and algae.
Neat and Clean Finish - Composite Wood comes with a clever concealed joining system which ensures that there are no exposed nails or bolts. The system makes it quick and easy to install your new decking, creating clean precise lines in your garden.
Colour and Durability – Timber decking requires frequent staining to keep its colour whereas composite decking has added protection from UV rays preventing it from fading.  Composite Wood decking comes in 4 unique colour options to match the style of your garden. Each design has improved colour stabilisers to ensure your new decking won't fade from exposure to the sun and will continue to look great for years to come.
Sustainability – composite decking has a durable structure and will last a lot longer than timber decking and still look great. 
If you are considering garden improvements, why not contact The Composite Wood Company for more information – they will help you love your garden.