Delicious new menu from The Danube Restaurant Newark
18th May 2012
... Comments
---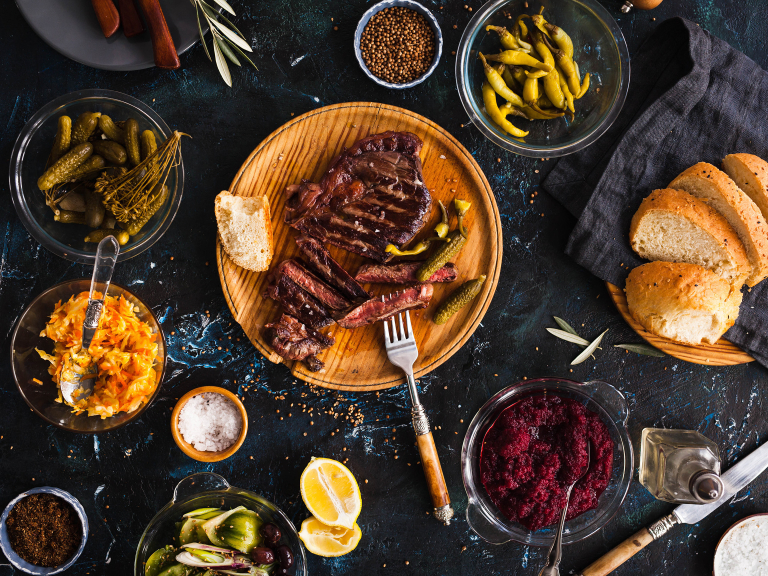 Our mouth-watering new menu at The Danube, Newark includes  three platters to share ( one smoked fish platter, one continental meats platter and one cheese platter).
The Smoked fish platter consists of Smoked Lincolnshire trout, Lincolnshire smoked trout pate, smoked salmon, blinis with crème fraiche and Avruga caviar, dill sauce, fresh bread, butter and salad. Seriously delicious. The smoked trout and the smoked trout pate come from the Belleau smokery in Lincolnshire.
We have also included sea bass (Pan griddled sea bass fillet with garlic lemon butter sauce served with salad and au gratin Nottinghamshire potatoes (potatoes baked in the oven with cream, onions and milk) or chips) and locally reared  lamb cutlets (Succulent pan grilled Nottinghamshire lamb cutlets on a bed of chickpeas, smoked paprika and caramelised onion purée served with rosemary and garlic roast potatoes and red wine and rosemary sauce).
There is a new pork dish on the menu too (Slowly roasted local pork served with fondant potatoes, honey glazed parsnips and red wine, plum and oregano sauce). The pork meat comes from the White Post farm.
One of our desserts is Thaymar ice cream produced near Tuxford. Our customers can choose 3 cups from the following flavours:
•         Natural vanilla bean
•         Chunky chocolate
•         Elderflower and Gooseberry
•         Honey and Ginger
Our cakes are baked using the excellent Tuxford windmill flour. We take great care picking locally-sourced food where possible and choosing food that will delight all the senses!
Oh and we have also a salads sections which includes among others a smoked duck breast salad with beetroot, walnuts and a raspberry vinaigrette. We were delighted to receive a recent review from Andy who is a vegetarian:
"Probably the best food in Newark and I am a vegetarian! Seriously recommended"
Thank you Andy - that says it all!