The changing face of Hitchin
20th September 2012
... Comments
---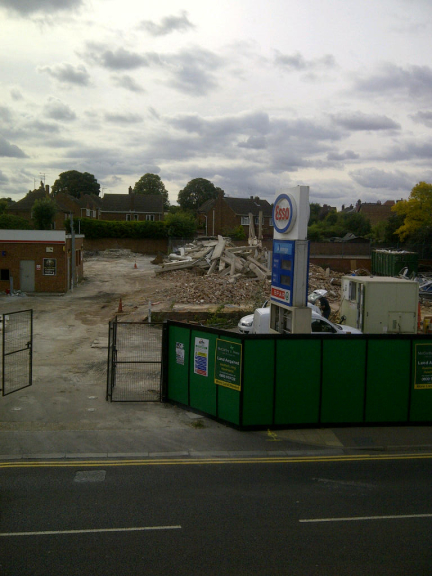 Sometimes, it just feels like things are changing after a static period. It may just be me, but there seems to be lots of physical changes planned in and around Hitchin.
I happen to live very close to what will always be Burrs Garage. Most recently, it was Marshall's Vauxhall and Alfa Romeo, as well as the Esso petrol station on Old Park Road. If you still can't picture it, think about turning right out of the one-way system into Waitrose car park.
Right now, the garage, built sometime in the 1970s, is being demolished, in preparation for the erection of retirement apartments. It looks like being an improvement, but the noise and dust this week are extraordinary.
We are very fortunate in this part of the world that both of our local newspapers (and there aren't many towns that can boast that!) are great at informing the community of planned developments. The last few weeks seem to have been very busy, with the new Tesco providing endless vehicular disruption at the entrance to the station, a possible new Tesco at Top Field and the moving of Hitchin Town FC to a field outside town and the redevelopment proposals for the old Hermitage Road post office. The latest proposal is to double the size of Samuel Lucas school - take a look at the entrance to it and the junction nearest to it and tell me it's a good idea.
Some say that we - residents and members of the local community - only find out about these proposals long after the developers and councillors have done the deals between themselves. That we can have no say in the landscape of the town. Certainly, there is plenty to be seen in Hitchin that was opposed by people - buildings that have disappeared and others that have miraculously been granted permission despite objections.
But that way madness lies. To give in and to ignore the chance to have your say is defeatism and gives our elected officials no-one to answer to.
The developers at the site on Old Park Road consulted with residents and seemd to have listened to some comments. At least they gave the impression they were listening. We cannot sit by and just moan - better to exress an opinion to those with power than to friends and family. What do you think?