TIN WHISTLE PRODUCTIONS PRESENTS THE CHRONICLES OFSARNIA
Princess Royal Centre for Performing Arts
Les Ozouets Rd
St Peter Port
Guernsey
GY1 2UB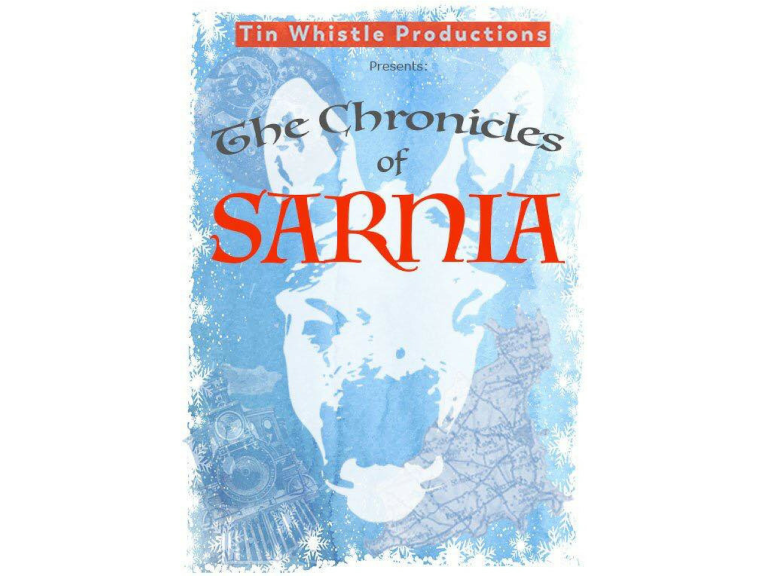 The Chronicles of Sarnia follows three evacuee children as they are sent from Guernsey during the war. However, their adventure truly begins when they discover the magical land of Sarnia which has been enslaved by the wicked fairy queen Guerzille. Will Etaï Ane return to free his land? Are the children truly the fabled Guardians? Will anyone understand the clever use of Guernesiaise for character names?
---
This is an exciting, unique, project for Guernsey that is an imaginative retelling of a familiar story written and directed by Oliver Bailey-Davies with a cast of professionally trained, local performers; Ruby Tapp, Rhys Ashcroft, Dan Le Friec and Troy Le Page.
---
In June 1940 we meet Victoria, Charles and Timothy as they are evacuated from Guernsey ten days before the German occupation. The three siblings are heading to the north of England to their safety, little do they know their adventure is just about to begin and that they are travelling towards danger and not away from it. The three children soon find themselves embroiled in a battle to save the mystical land of Sarnia from the icy grip of Guerzille, the Ice Queen. Guerzille has ruled Sarnia with fear and oppression since banishing EtaiAne the true protector of this small island.
Tin Whistle specialise in immersive, educational experiences where they challenge the audiences and hope to leave them altered and enlightened.
The show also contains new songs especially written by Apocalypse Studios, supported by the School of Popular Music, in our continued pledge to work collaboratively across the Arts sector. As the resident theatre company at the PRCPA, we will also be working in partnership with the Guernsey College of Further Education to provide vocational experience for students across a range of courses.
---
This production is supported by Art For Guernsey, The States of Guernsey and Guernsey College of Further Education.
---
Pricing:
Student/Child's ticket - £10.00
Retired Person's ticket - £10.00
---
Future dates
Saturday 8th December 2:00pm until 4:00pm
Saturday 8th December 7:00pm until 9:00pm
Sunday 9th December 2:00pm until 4:00pm
Friday 14th December 7:00pm until 9:00pm
Saturday 15th December 2:00pm until 4:00pm
Saturday 15th December 7:00pm until 9:00pm
Sunday 16th December 2:00pm until 4:00pm
Friday 21st December 7:00pm until 9:00pm
Saturday 22nd December 2:00pm until 4:00pm
Saturday 22nd December 7:00pm until 9:00pm