Print Your Own Heritage Postcard
Ruette Braye
St Peter Port
Guernsey
GY1 1PL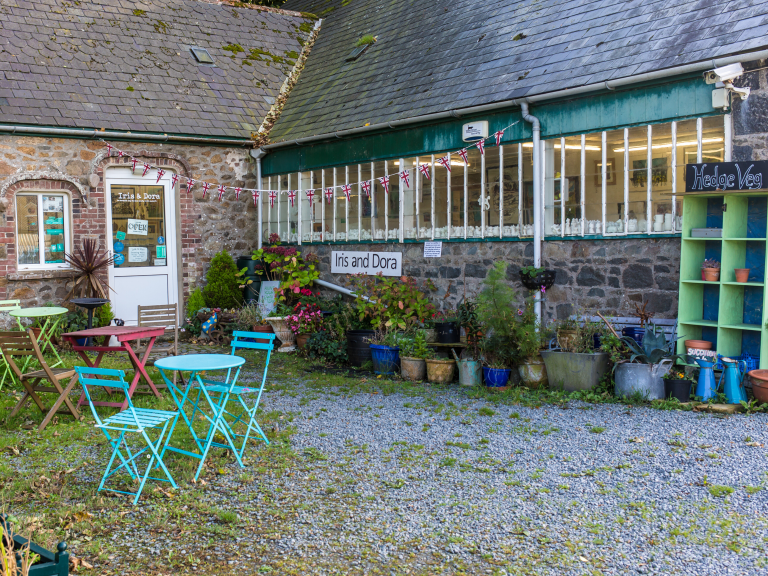 Pop into Award Winning Art Studio "Iris & Dora" (a small, family run working art studio, creative workshop and gift shop) and print your very own heritage postcard using their vintage, hand printing press.
---
Embellish with hand cut stamps and voila: Your very own, hand printed postcard to send to a friend or loved one! Each one unique to you.
This activity is available every Tuesday to Friday from 10th April until 31st July from 9.00am until 5.00pm.
£5 per person
Please email if you'd like to take part.
---
Future dates
Wednesday 8th April 9:00am until 5:00pm
Thursday 9th April 9:00am until 5:00pm
Friday 10th April 9:00am until 5:00pm
Tuesday 14th April 9:00am until 5:00pm
Wednesday 15th April 9:00am until 5:00pm
Thursday 16th April 9:00am until 5:00pm
Friday 17th April 9:00am until 5:00pm
Tuesday 21st April 9:00am until 5:00pm
Wednesday 22nd April 9:00am until 5:00pm
Thursday 23rd April 9:00am until 5:00pm
Friday 24th April 9:00am until 5:00pm
Tuesday 28th April 9:00am until 5:00pm
Wednesday 29th April 9:00am until 5:00pm
Thursday 30th April 9:00am until 5:00pm
Friday 1st May 9:00am until 5:00pm
Tuesday 5th May 9:00am until 5:00pm
Wednesday 6th May 9:00am until 5:00pm
Thursday 7th May 9:00am until 5:00pm
Friday 8th May 9:00am until 5:00pm
Tuesday 12th May 9:00am until 5:00pm
Wednesday 13th May 9:00am until 5:00pm
Thursday 14th May 9:00am until 5:00pm
Friday 15th May 9:00am until 5:00pm
Tuesday 19th May 9:00am until 5:00pm
Wednesday 20th May 9:00am until 5:00pm
Thursday 21st May 9:00am until 5:00pm
Friday 22nd May 9:00am until 5:00pm
Tuesday 26th May 9:00am until 5:00pm
Wednesday 27th May 9:00am until 5:00pm
Thursday 28th May 9:00am until 5:00pm
Friday 29th May 9:00am until 5:00pm
Tuesday 2nd June 9:00am until 5:00pm
Wednesday 3rd June 9:00am until 5:00pm
Thursday 4th June 9:00am until 5:00pm
Friday 5th June 9:00am until 5:00pm
Tuesday 9th June 9:00am until 5:00pm
Wednesday 10th June 9:00am until 5:00pm
Thursday 11th June 9:00am until 5:00pm
Friday 12th June 9:00am until 5:00pm
Tuesday 16th June 9:00am until 5:00pm
Wednesday 17th June 9:00am until 5:00pm
Thursday 18th June 9:00am until 5:00pm
Friday 19th June 9:00am until 5:00pm
Tuesday 23rd June 9:00am until 5:00pm
Wednesday 24th June 9:00am until 5:00pm
Thursday 25th June 9:00am until 5:00pm
Friday 26th June 9:00am until 5:00pm
Tuesday 30th June 9:00am until 5:00pm
Wednesday 1st July 9:00am until 5:00pm
Thursday 2nd July 9:00am until 5:00pm
Friday 3rd July 9:00am until 5:00pm
Tuesday 7th July 9:00am until 5:00pm
Wednesday 8th July 9:00am until 5:00pm
Thursday 9th July 9:00am until 5:00pm
Friday 10th July 9:00am until 5:00pm
Tuesday 14th July 9:00am until 5:00pm
Wednesday 15th July 9:00am until 5:00pm
Thursday 16th July 9:00am until 5:00pm
Friday 17th July 9:00am until 5:00pm
Tuesday 21st July 9:00am until 5:00pm
Wednesday 22nd July 9:00am until 5:00pm
Thursday 23rd July 9:00am until 5:00pm
Friday 24th July 9:00am until 5:00pm
Tuesday 28th July 9:00am until 5:00pm
Wednesday 29th July 9:00am until 5:00pm
Thursday 30th July 9:00am until 5:00pm
Friday 31st July 9:00am until 5:00pm