NATIONAL TRUST OF GUERNSEY MUSEUM CHRISTMAS SHOP
National Trust Guernsey Shop
Saumarez Park
Castel
Guernsey
Channel Islands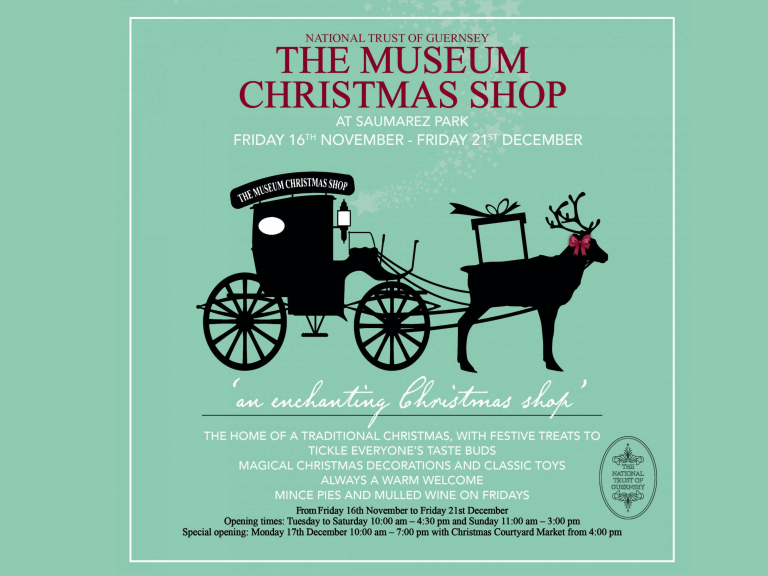 An enchanting Christmas shop with Guernsey heritage in the National Trust Guernsey's Christmas Shop at Saumarez Park's Folk & Costume Museum.
---
The National Trust Guernsey have again opened their Christmas Shop at the Folk & Costume Museum at Saumarez Park, Castel, but hurry because the shop is only open until Friday 21st December 2018.
---
In this truly beautiful Christmas shop childrens' toys abound from traditional games, spinning tops, aircraft carriers and tool boxes, to string puppets. These are hands on, learning toys, which are ideal if you want your child to put away the smart phone, discard the tablet or close the laptop.
There are also edible treats on sale for those of all ages, so if you're a fan of exquisite handmade sugar-dusted Turkish Delight (Pistachio or fragrant Rose Petal), a many-layered Christmas Snowman with a liquid salted caramel centre, orange slices dipped in chocolate, or Belgian Chocolates, then you need to pay a visit to the NTG Christmas Shop.
---
Closed on Monday.*
Tuesday – Saturday: 10:00 am – 4:30 pm
Sunday: 11:00 am – 3:00 pm
*Special opening for Christmas Courtyard Market: Monday 17th December 4:00 pm – 8:00 pm
---
The shop can be found in Perry's Guide Maps on page 15, map square G2, and is accessible from bus routes 41 and 42 (buses leaving Town Terminus every 15 minutes) and disembarking at the Saumarez Park stop.
For further information contact the shop by email on folkmuseumntgsy@cwgsy.net or by telephone on (01481) 255384.
---
Future dates
Saturday 15th December 10:00am until 4:30pm
Sunday 16th December 11:00am until 3:00pm
Monday 17th December 10:00am until 7:00pm
Tuesday 18th December 10:00am until 4:30pm
Wednesday 19th December 10:00am until 4:30pm
Thursday 20th December 10:00am until 4:30pm
Friday 21st December 10:00am until 4:30pm
Saturday 22nd December 10:00am until 4:30pm