GADOC PRESENTS DICK WHITTINGTON
Beau Sejour Leisure Centre
Amherst
St Peter Port
Guernsey
GY1 2DL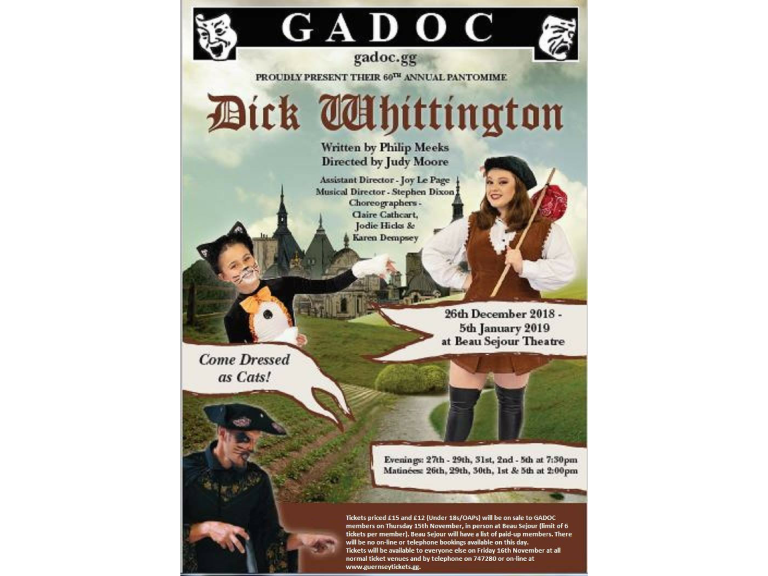 Adventure abounds in GADOC's 60th annual panto, Dick Whittington, so come and let this family friendly entertainment light up your Christmas.
---
This pantomime takes place at Beau Sejour Leisure centre in St Peter Port between the dates Wednesday 26th December 2018 and Saturday 5th January 2019.
2.00pm matinees end at 4.30pm and are available on the 26th, 29th, 30th December plus 1st & 5th January. 7.30pm evening performances end at 10.00pm and are available every day of the run except 26th & 30th December and 1st January.
---
Join the cast of Dick Whittington for a traditional Christmas pantomime.  Arriving in London to make his fortune as he has heard the streets are paved with gold, Dick finds himself in a city over run by rats.  He quickly meets and falls for Alderman Fitzwarren's daughter Alice, and gets a job in Fitzwarren's store. His happiness is thwarted by King Rat, and Dick is forced to leave London in disgrace. 
Little does he know that under the watchful eye of Fairy Bow Bells, and assisted by Tommy her magical cat, he must embark on a magnificent quest.  His travels include stowing away on the 'Naughty Nancy' and helping Maneeta, the Sultana of Morocco, with her rat problem.  Finally defeating King Rat he returns to fulfil his destiny and becomes Lord Mayor of London. 
This traditional take on the beloved pantomime classic features the usual 'goodies and baddies' and the outrageous Dame Sarah, and includes all the comic routines, music, dance and memorable moments this panto subject is known for.  The younger members of our audience are invited to come dressed as cats as their help may be needed in dealing with those naughty rats!
---
Tickets priced £15 and £12 (Under 18s/OAPs) are on sale at all normal ticket venues and by telephone on 747280 or on-line at www.guernseytickets.gg.
---
Future dates
Thursday 27th December 7:30pm until 10:00pm
Friday 28th December 7:30pm until 10:00pm
Saturday 29th December 2:00pm until 4:30pm
Saturday 29th December 7:30pm until 10:00pm
Sunday 30th December 2:00pm until 4:30pm
Monday 31st December 7:30pm until 10:00pm
Tuesday 1st January 2:00pm until 4:30pm
Wednesday 2nd January 7:30pm until 10:00pm
Thursday 3rd January 7:30pm until 10:00pm
Friday 4th January 7:30pm until 10:00pm
Saturday 5th January 2:00pm until 4:30pm
Saturday 5th January 7:30pm until 10:00pm