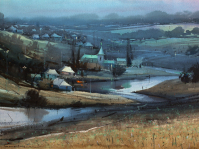 EUGENIU GOREAN WORKSHOP
Thursday 30th March
10:30am until 5:00pm See future dates
Artist Eugeniu Gorean is back in Guernsey to run a 3-day workshop on water-colour painting.
---
This event takes place on Wednesday 29th, Thursday 30th and Friday 31st March 2017 from 10.30am until 5.00pm on the inner street of Market Square, St Peter Port. Eugen will be assisted by his fiancé Ivanka, who will be translating for him.
---
This workshop is for a minimum 8 people, maximum 14 people, so please book in advance. People of any age and any level of artistic ability are welcome to attend, from beginners to long time painters. The price per day is £70 per person, or £180 for all 3 days. For further questions and for registration please contact by email at eugen_gorean@mail.ru
---
Required materials are 3-4 sheets of paper 37x53cm Arches grain torshon or grain fin, Kolinsky sable brushes, sketch book, a board, gutter, pencil, and watercolor pigments with the following being mandatory: cobalt blue, turquoise, ceruleum, ultramarine.
---
The agenda for the 3 days of the workshop is as follows:
29th March
Theory of composition, watercolor exercises, working on a Guernsey watercolor, the contrast between the sea and the rocks, working "after photo"
30th March
Watercolor exercises, work on a Guernsey seascape, working after photo
31st March
Watercolor exercises, work on St Peter Port landscape, including lights and shadows
---
Future Dates
Friday 31st March
10:30am until 5:00pm
*thebestof cannot be held responsible for any changes, amends or cancellations of an event
Contact us:

visit us

Market Square,
St Peter Port,
Guernsey
Channel Islands