BOTTOMLESS BRUNCH AT THE CROWN CLUB
The Crown Club,
Old Government House Hotel & Spa,
St Ann's Place,
St Peter Port,
Guernsey
GY1 2NU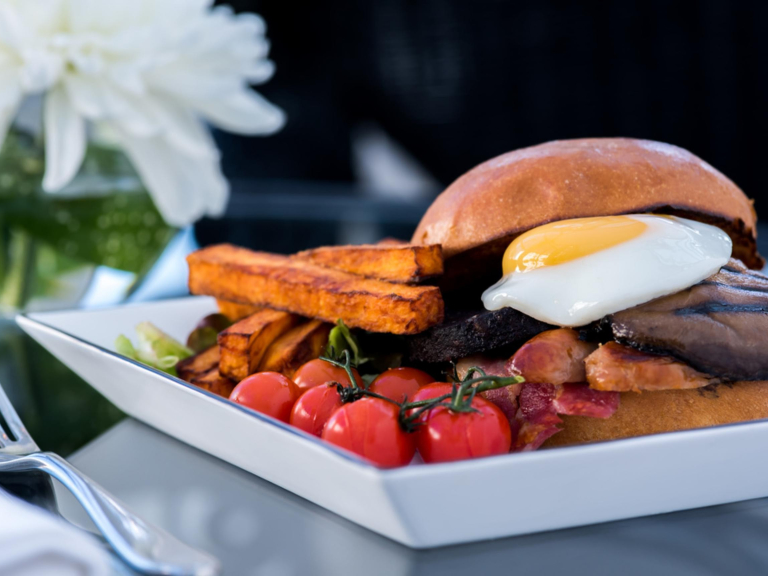 The Crown Club by the OGH launches their Bottomless Brunch menu with a fantastic range of healthy options.
---
Bottomless Brunch is served 11.00am until 2.30pm on Saturdays and 12.00pm until 2.30pm on Sundays at The Crown Club in St Peter Port.
For bookings please call (01481) 738604 or email fandbmanager@theoghhotel.com
---
The Crown Club has launched a new Bottomless Brunch menu, with a fantastic range of healthy options including butternut squash pancakes with feta and roasted tomato, a quinoa superbowl with pomegranate and beetroot. If you like the more traditional brunch then they have the full English in a bun (vegetarian option also available) together with perfect, classic lazy weekend options eggs benedict or royale.
Order one of the delicious main dishes and you will be offered a choice of bottomless Bellini, Bloody Mary or Prosecco for 90 minutes at a total meal cost of £28 per person.
---
All main courses and drinks - including new healthy juices to give your weekend a kick-start - are also available to order separately.
The full menu is available to view in the sidebar.
---
Future dates
Sunday 20th August 12:00pm until 2:30pm
Saturday 26th August 11:00am until 2:30pm
Sunday 27th August 12:00pm until 2:30pm
Saturday 2nd September 11:00am until 2:30pm
Sunday 3rd September 12:00pm until 2:30pm
Saturday 9th September 11:00am until 2:30pm
Sunday 10th September 12:00pm until 2:30pm
Saturday 16th September 11:00am until 2:30pm
Sunday 17th September 12:00pm until 2:30pm
Saturday 23rd September 11:00am until 2:30pm
Sunday 24th September 12:00pm until 2:30pm
Saturday 30th September 11:00am until 2:30pm
Sunday 1st October 12:00pm until 2:30pm
Saturday 7th October 11:00am until 2:30pm
Sunday 8th October 12:00pm until 2:30pm
Saturday 14th October 11:00am until 2:30pm
Sunday 15th October 12:00pm until 2:30pm
Saturday 21st October 11:00am until 2:30pm
Sunday 22nd October 12:00pm until 2:30pm
Saturday 28th October 11:00am until 2:30pm
Sunday 29th October 12:00pm until 2:30pm
Saturday 4th November 11:00am until 2:30pm
Sunday 5th November 12:00pm until 2:30pm
Saturday 11th November 11:00am until 2:30pm
Sunday 12th November 12:00pm until 2:30pm
Saturday 18th November 11:00am until 2:30pm
Sunday 19th November 12:00pm until 2:30pm
Saturday 25th November 11:00am until 2:30pm
Sunday 26th November 12:00pm until 2:30pm
Saturday 2nd December 11:00am until 2:30pm
Sunday 3rd December 12:00pm until 2:30pm
Saturday 9th December 11:00am until 2:30pm
Sunday 10th December 12:00pm until 2:30pm
Saturday 16th December 11:00am until 2:30pm
Sunday 17th December 12:00pm until 2:30pm
Saturday 23rd December 11:00am until 2:30pm
Sunday 24th December 12:00pm until 2:30pm
Saturday 30th December 11:00am until 2:30pm
Sunday 31st December 12:00pm until 2:30pm
Saturday 6th January 11:00am until 2:30pm
Sunday 7th January 12:00pm until 2:30pm
Saturday 13th January 11:00am until 2:30pm
Sunday 14th January 12:00pm until 2:30pm
Saturday 20th January 11:00am until 2:30pm
Sunday 21st January 12:00pm until 2:30pm
Saturday 27th January 11:00am until 2:30pm
Sunday 28th January 12:00pm until 2:30pm
Saturday 3rd February 11:00am until 2:30pm
Sunday 4th February 12:00pm until 2:30pm
Saturday 10th February 11:00am until 2:30pm
Sunday 11th February 12:00pm until 2:30pm
Saturday 17th February 11:00am until 2:30pm
Sunday 18th February 12:00pm until 2:30pm
Saturday 24th February 11:00am until 2:30pm
Sunday 25th February 12:00pm until 2:30pm