RECYCLING RAISES £25,000 FOR LOCAL CHARITIES
22nd April 2014
... Comments
---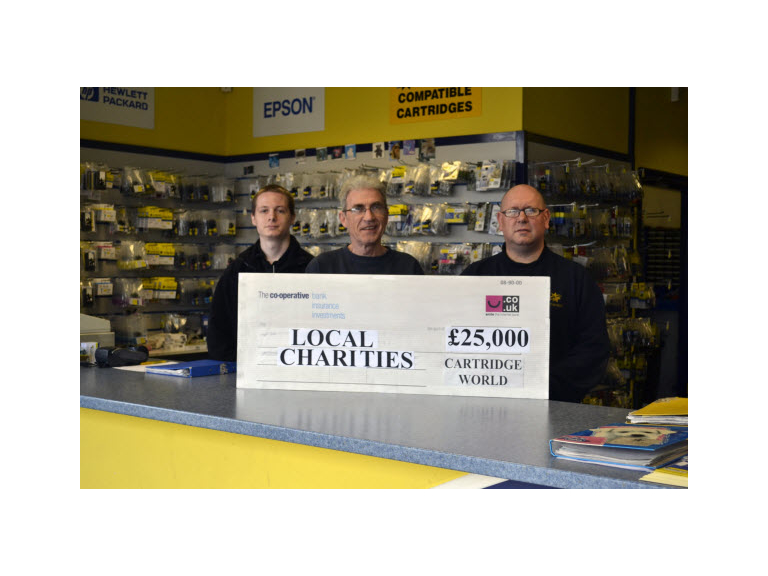 RECYCLING RAISES £25,000 FOR LOCAL CHARITIES
 
A charity recycling scheme operated by Cartridge World Gloucester  for the past twelve years has now raised £25,000 for local charities. Amongst those to benefit are Scout groups, churches, Guide Dogs for the Blind and, most recently, the local branch of national charity, BIBIC. BIBIC offers practical help to families caring for children with conditions such as autism, aspergers, cerebral palsy, Downs Syndrome and specific learning difficulties.
 
The recycling scheme is called 'Recycle-it. It encourages members and supporters of voluntary groups and charities to recycle their used printer cartridges. It's a bit like getting money back on empty pop bottles and jam jars. They simply collect empty printer cartridges from colleagues and friends and pop them into a 'Recycle-it' bin. When it's full it's taken to Cartridge World Gloucester who make a donation to charity for every recyclable cartridge in the bin.
 
"It really is as easy as that," says Terry Jeffery, owner of Cartridge World Gloucester. "A hassle-free way of raising valuable funds for your charity or voluntary organisation."
 
Terry is keen to spread the message on 'Recycle-it' to other local organisations in order that they too can benefit from Cartridge World's 'Recycle-it' fund raising scheme. If you'd like more information, you can contact
Terry on 01452 413 413.
 
Picture caption: From left to right: Cheque mates! Mike Thomas, Terry Jeffery (owner of Cartridge World stores in Cheltenham and Gloucester) and Lee Goodwin
 
::RECYCLING RAISES £25,000 FOR LOCAL CHARITIES::