Farnham Networking at The Wheatsheaf
The Wheatsheaf Public House
19 West Street
Farnham
Surrey
GU9 7DR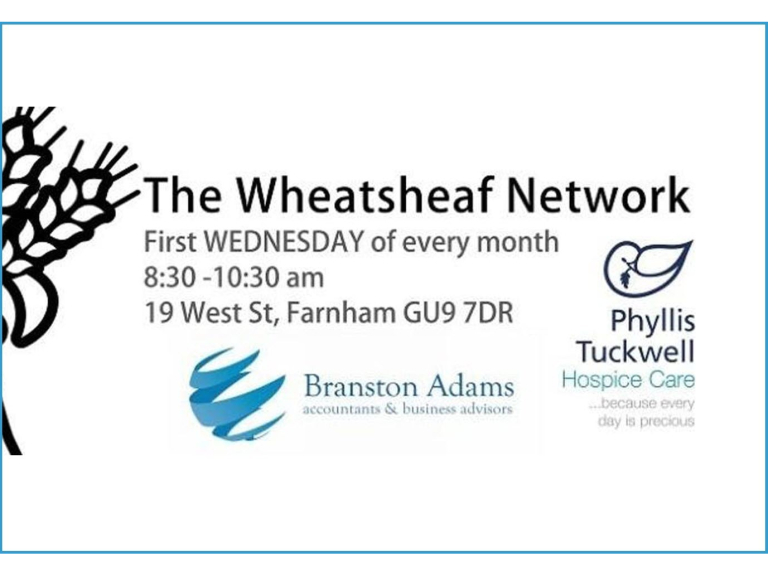 This popular Networking event in Farnham is Free to attend, with events held on the first Wednesday of every month at The Wheatsheaf in Farnham. Guest speakers and lots of networking. Donations welcome to support Phyllis Tuckwell Hospice Care.
The Wheatsheaf Network; a partnership between The Wheatsheaf and Branston Adams, supporting Phyllis Tuckwell Hospice Care.
If you would like to register, please do get in touch. We respectfully request that competitor accountants and pub firms do not apply.  
The Farnham networking events held at The Wheatsheaf have been key in introducing, and formulating great bonds between local businesses and suppliers. The partnership between Branston Adams Tax Accountants and The Wheatsheaf not only supports Phyllis Tuckwell Hospice Care, but ensures a diverse (and busy) turn out each and every month, whilst the fascinating guest speakers range from gin makers and chocolatiers to inspirational business people, social media specialists and forward-thinking entrepreneurs.
Held on the first Wednesday of every month, these local Farnham networking events are free to attend, with a suggested donation to Phyllis Tuckwell Hospice of £5 on your arrival. Tea coffee and bacon sandwich provided.
Future dates
Wednesday 1st April 8:30am until 10:30am
Wednesday 6th May 8:30am until 10:30am
Wednesday 3rd June 8:30am until 10:30am
Wednesday 1st July 8:30am until 10:30am
Wednesday 5th August 8:30am until 10:30am
Wednesday 2nd September 8:30am until 10:30am
Wednesday 7th October 8:30am until 10:30am
Wednesday 4th November 8:30am until 10:30am
Wednesday 2nd December 8:30am until 10:30am
Wednesday 6th January 8:30am until 10:30am
Wednesday 3rd February 8:30am until 10:30am
Wednesday 3rd March 8:30am until 10:30am
Wednesday 7th April 8:30am until 10:30am
Wednesday 5th May 8:30am until 10:30am
Wednesday 2nd June 8:30am until 10:30am
Wednesday 7th July 8:30am until 10:30am
Wednesday 4th August 8:30am until 10:30am
Wednesday 1st September 8:30am until 10:30am
Wednesday 6th October 8:30am until 10:30am
Wednesday 3rd November 8:30am until 10:30am
Wednesday 1st December 8:30am until 10:30am
Wednesday 5th January 8:30am until 10:30am
Wednesday 2nd February 8:30am until 10:30am
Wednesday 2nd March 8:30am until 10:30am
Wednesday 6th April 8:30am until 10:30am
Wednesday 4th May 8:30am until 10:30am
Wednesday 1st June 8:30am until 10:30am
Wednesday 6th July 8:30am until 10:30am
Wednesday 3rd August 8:30am until 10:30am
Wednesday 7th September 8:30am until 10:30am
Wednesday 5th October 8:30am until 10:30am
Wednesday 2nd November 8:30am until 10:30am
Wednesday 7th December 8:30am until 10:30am
Wednesday 4th January 8:30am until 10:30am
Wednesday 1st February 8:30am until 10:30am
Wednesday 1st March 8:30am until 10:30am
Wednesday 5th April 8:30am until 10:30am
Wednesday 3rd May 8:30am until 10:30am
Wednesday 7th June 8:30am until 10:30am
Wednesday 5th July 8:30am until 10:30am
Wednesday 2nd August 8:30am until 10:30am
Wednesday 6th September 8:30am until 10:30am
Wednesday 4th October 8:30am until 10:30am
Wednesday 1st November 8:30am until 10:30am
Wednesday 6th December 8:30am until 10:30am
Wednesday 3rd January 8:30am until 10:30am
Wednesday 7th February 8:30am until 10:30am
Wednesday 6th March 8:30am until 10:30am
Wednesday 3rd April 8:30am until 10:30am
Wednesday 1st May 8:30am until 10:30am
Wednesday 5th June 8:30am until 10:30am
Wednesday 3rd July 8:30am until 10:30am
Wednesday 7th August 8:30am until 10:30am
Wednesday 4th September 8:30am until 10:30am
Wednesday 2nd October 8:30am until 10:30am
Wednesday 6th November 8:30am until 10:30am
Wednesday 4th December 8:30am until 10:30am
Wednesday 1st January 8:30am until 10:30am
Wednesday 5th February 8:30am until 10:30am
Wednesday 5th March 8:30am until 10:30am
Wednesday 2nd April 8:30am until 10:30am
Wednesday 7th May 8:30am until 10:30am