Your need to know guide to health services this festive break #Surrey @SurreyDownsCCG
23rd December 2016
... Comments
---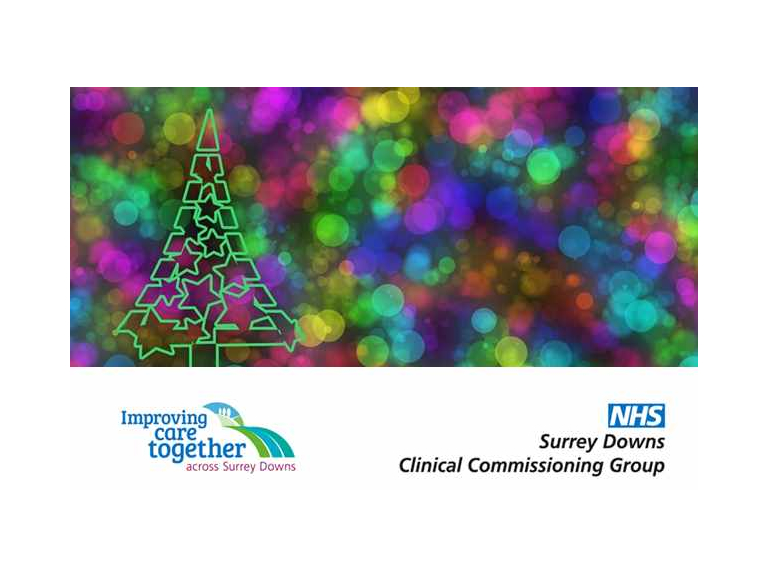 Here are some useful links and information from Surrey Downs Clinical Commissioning Group:

Do you know where to get help if you're unwell or need health advice over the Christmas period? Local health experts at NHS Surrey Downs Clinical Commissioning Group want to make local people aware of the variety of services that are on hand over the festive break and remind people that help is always available.
Pharmacies are open across Surrey during the festive period. Pharmacists are trained to give health advice and can help if your GP practice is closed. A full list of the addresses and opening times can be found here www.surreydownsccg.nhs.uk/Christmas. If you're travelling away from Surrey there are also details of pharmacies across the South East.
GP practices will be open between Christmas and New Year (closed on Bank Holidays). For a list of all the practices in the Surrey Downs area please visit www.surreydownsccg.nhs.uk/about-us/surrey-downs-ccg/our-member-practices/a-z-of-practices/
If you need to access out of hours GP care, you can call 111, the NHS non-emergency number, which is available 24 hours a day, 365 days a year (calls are free from landlines and mobile phones). In a health emergency you should always call 999.
We're also working with NHS England, local hospitals and GP practices to provide extra GP services and clinics during the busy winter period. We're also supporting local healthcare initiatives such as extra children's clinics in East Elmbridge for those registered with a GP in the area, and additional appointments in GP practices across the Surrey Downs area (which includes Epsom and Ewell, East Elmbridge, Dorking, Banstead and surrounding areas). Contact your local GP practice for details.
Dr Claire Fuller, Clinical Chair at Surrey Downs Clinical Commissioning Group, said: "Thanks to everyone who will be working hard over Christmas and the New Year, our local NHS continues to make sure people can get any help they need during the festive break.

"We want people to know that there are lots of options available if they do get ill or need some advice. Local pharmacists are trained professionals who can give advice on a range of health issues and many GP practices are also offering extra appointments to help over this busy winter period. Round the clock advice is also available from the NHS 111 service but in a health emergency you should always call 999."