Virgil Tracy from TV series Thunderbirds Are Go @Childrens_Trust #Tadworth to launch children's charity rockets @ThunderbirdsHQ
Virgil Tracy from hit ITV show Thunderbirds Are Go took part in a rocket making session at The Children's Trust, the UK's leading charity for children with brain injury on Tuesday 25October.
Virgil's visit helped bring space star inspiration to the children, who are receiving specialist brain injury rehabilitation at The Children's Trust. He also handed out gifts from his home Tracy Island, following the launch of Thunderbirds Are Go on ITV on Saturday (22 October) and on CITV on Sunday (23 October).
Keren Holding, Health Play Specialist at The Children's Trust said: "It is so important that children still have fun during such intense rehabilitation, so Virgil's visit was a fantastic boost for them. The rocket making session with a real life Thunderbird has been great fun for all involved, and inspired some brilliant creations. Now all we have got to do, is try to get them flying to Tracy Island."
Virgil said: "I've had a great day making rockets with the children here at The Children's Trust. I wish I could take the rockets back with me to show the International Rescue team members. I know they would be so impressed with the super creations that were made."
Thunderbirds Are Go new episodes air every Saturday on ITV at 4pm and every Sunday on CITV at 8.30am.
To find out more about The Children's Trust, visit thechildrenstrust.org.uk.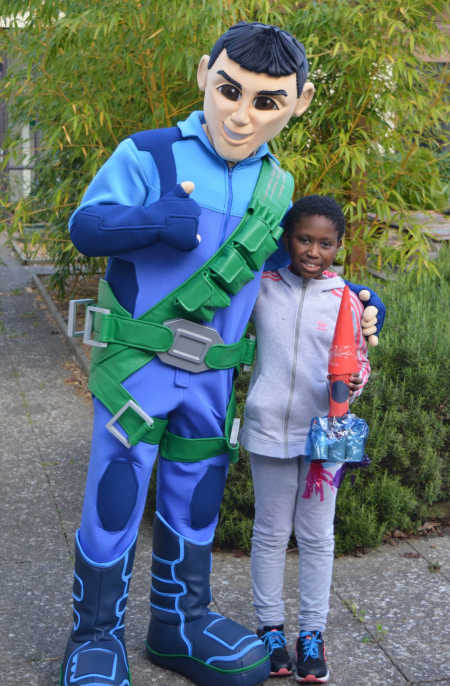 Photo: Virgil meets Amina who is at The Children's Trust for intensive rehabilitation following a brain injury
About The Children's Trust
The Children's Trust is the UK's leading charity for children with brain injury.
Every year we support thousands of children and families right across the country.
We provide rehabilitation to help children make the best recovery possible after a serious accident or illness, both at our national specialist centre in Tadworth, Surrey and in the community. We run a special school for children with profound and multiple learning difficulties and provide transitional medical care to children with complex health needs. We have an extensive research programme and provide online support for families all over the UK.