Update from Chris Grayling MP on @Epsom_StHelier @EpsomBusAwards Epsom Post Office and @AgeConcernEpsom Charity Concert
17th November 2017
... Comments
---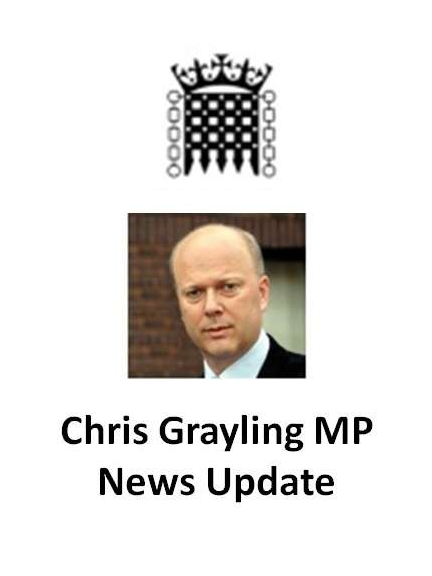 Received from the office of Chris Grayling MP on 17th November 2017.
"Dear constituent
 
I wanted to update you on a number of local issues.
 
Firstly, the latest on the future of the Hospital. The Epsom and St Helier Trust has now completed its informal engagement programme with the public. They have now said that they believe they have public support to ask the NHS to move ahead with the construction of a new hospital. But they have been careful not to express a preference between Epsom, St Helier and Sutton – though it is clear that the preferred option of the leadership is for a new build on the Sutton site.
 
However as I indicated to you in my last email about this, I have spoken to many senior people in the NHS and it is clear that whilst the Trust leadership wants to build a new hospital, this doesn't appear to have much support elsewhere in the NHS. The Government is providing additional capital funding for the NHS, but this is almost certain to be spent on smaller projects. As I have said before, if the prospect of a new hospital locally becomes a real one, then we will need to have a serious debate about the plans. Right now, though, there is no immediate threat to the future of services at Epsom, and if anything I am frustrated that this exercise has raised both concerns and expectations without the Trust having secured wider support in the NHS for what it wants to do.
 
In the meantime, Epsom Hospital continues to perform pretty well, and the Trust is one of the best performing in the country in its current form.
 
I will be keeping a careful eye on all of this, and will update you if anything looks like changing.
 
The latest news on Epsom Post Office is more positive. After several months of either no post office, or a temporary one in the Town Hall, a new Town Centre site has been located for a permanent post office. I am hoping that the new office will open early in the New Year.
 
The new 10 coach trains have started to arrive on the line to Waterloo. Over the coming months we will see the steady introduction of the longer trains, meaning 20% more seats in the peak. I was checking the timetables a few days ago, and there will be 12 ten coach trains from Epsom to London between 7 and 8 am next year. Ten years ago there were only eight, and they were only eight coaches long. It's a step in the right direction.
 
Congratulations to the winners of this year's Epsom and Ewell Business Awards. There was a really strong field of entries, and some really deserving winners, ranging from small one person operations to well-known local companies.
 
The winners were Dastaan, a recently opened Indian restaurant in Ewell, run by award winning chefs Sanjay Gour and Nand Kishor. http://dastaan.co.uk/
 
Finally, the charity I have been supporting this year is Age Concern Epsom. Soundbytes Choir have kindly agreed to hold a concert to raise funds for the charity. The concert is being held at Christchurch United Reform Church, Epsom Road, Leatherhead KT22 8ST on Friday 8th December 8pm, everyone is very welcome.
 
I want to thank all the members of the choir for their support.  
 
With best wishes,
 
Chris Grayling"
 
Rt Hon Chris Grayling MP
Secretary of State for Transport
MP for Epsom and Ewell
This is one of Chris's regular email updates for constituents. If you would like to reply to Chris please email him at: chris.grayling.mp@parliament.uk .