Shane Richie surprises birthday girl during her stay at brain injury rehabilitation centre @Childrens_Trust @realshaneritchie
EastEnders star Shane Richie dropped into The Children's Trust today (Wednesday 19 October) to wish 12 year old Millie a very special happy birthday mid-way through her brain injury rehabilitation following a brain tumour.  
Millie, from South Croydon, has been staying at The Children's Trust, the UK's leading charity for children with brain injury, for six months and is celebrating her birthday during her stay. Having always been a huge EastEnders fan, Millie couldn't believe it when Richie walked into the room armed with gifts and an Alfie Moon smile. 
Millie was a happy and healthy child until she was diagnosed with a brain tumour when she was 10 years old, which left her unable to walk, talk and eat. Following treatment, Millie came to The Children's Trust for intensive rehabilitation to help her try to regain some of the skills she has lost. 
To mark her birthday, Richie brought with him an autographed Albert Square sign and one of Alfie Moon's favourite shirts – telling her that he wanted tweeted evidence of her wearing it at her 'Queen Vic' themed birthday party on Friday.  
During his visit, Richie said: "It was great to see Millie and wish her a happy birthday, especially as she's such a big EastEnders fan – her room was covered in posters and I was fighting for wall space with Danny Dyer! The Children's Trust is a fantastic charity and it's a pleasure to meet the brave children here. Even though Millie and her mum did show me up with their EastEnders knowledge!" 
Millie's mum, Emma, said: "It has been a difficult couple of years for Millie, so 'Alfie' visiting today was amazing and such a boost for all of us. He even gave her some tips on how to be a true Eastender. Millie's rehabilitation has been really intense so days like this are so important. It is something we will remember for a long time!' 
For more information about The Children's Trust, visit www.thechildrenstrust.org.uk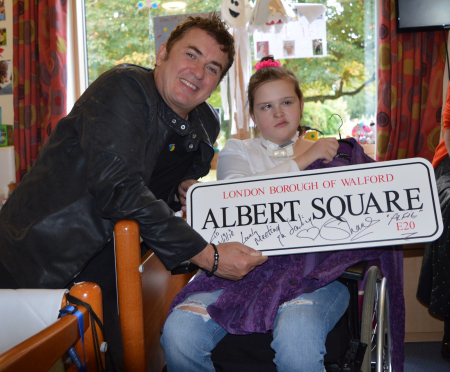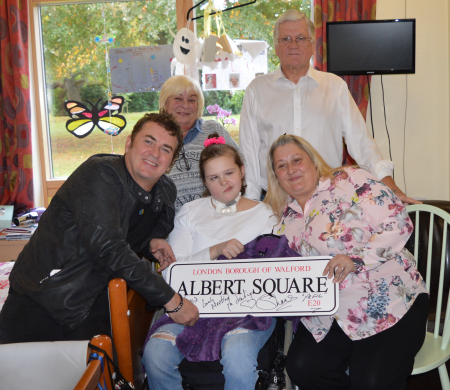 Photos: Shane and Millie with some of her gifts.
(L-R) Shane with Millie's grandma, Millie, grandad and Mum, Emma.
About The Children's Trust
The Children's Trust is the UK's leading charity for children with brain injury.
Every year we support thousands of children and families right across the country.
We provide rehabilitation to help children make the best recovery possible after a serious accident or illness, both at our national specialist centre in Tadworth, Surrey and in the community. We run a special school for children with profound and multiple learning difficulties and provide transitional medical care to children with complex health needs. We have an extensive research programme and provide online support for families all over the UK.
Information from: The Children's Trust