Scarecrows, family fun and entertainment at this year's Herald of Spring in @Ewell_Village @EpsomEwellBC
Over 2,500 visitors enjoyed the Herald of Spring festival held at Bourne Hall on Saturday 12 March. Entry to the popular festival was free and featured lots of family fun and entertainment throughout the day. This year's festival was in association with Ashtead Park Garden Centre and The Olive Tree and supported by Hobbledown, What's On In Epsom and Creation Station.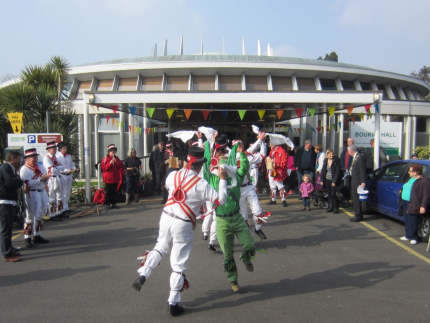 The winner of the 'Scarecrows from History' competition announced on the day was St Christopher's School, Epsom with their entry of Queen Elizabeth II. Southfields Park Primary School, Epsom won second place with their entry of Queen Elizabeth I and third place was won by Danes Hill School, Oxshott with their entry of Charles Darwin. Ewell Grove Infant and Nursery School were specially commended for their entry of Beatrix Potter. The competition was judged by the Mayor of Epsom & Ewell, Councillor Chris Frost. All the entries from participating local primary schools and youth groups were on display at the festival.  
Bourne Hall was transformed with beautiful floral and garden displays provided by Ashtead Park Garden Centre and children's activities included - Hobbledown Puppet Show and Creepy Crawlies; Creation Station spring themed arts and crafts and the What's On In Epsom Spring Market with around 40 stalls selling arts & crafts, jams & jewellery and lots more. 
Also taking part were Epsom Mayday Flower Club, Ewell Horticultural Association, Beekeepers, The Nonsuch Voles, Sussex & Surrey Coppice Group, the Moat Garden Centre and Bowling Clubs. Visitors also had the chance to find out and discover more about the Borough's Parks and Open Spaces and Recycling in Epsom & Ewell. 
Councillor Jan Mason, Chairman of the Leisure Committee said, "Thank you to everyone who helped make Herald of Spring a success. The support from our partners and staff commitment has helped us organise an event that brings the community together and is a fun day out for all the family. 
"Well done to all who took part in the 'Scarecrows from History' competition, the entries were very creative with a lot of thought and work put into them. Congratulations to all the winners!" 
To view images from the Herald of Spring festival visit www.facebook.com/EpsomEwellBC 
To stay updated with the latest events – follow us on Twitter @EpsomEwellBC; Facebook: www.facebook.com/EpsomEwellBC; subscribe to e-Borough Insight: http://insight.epsom-ewell.gov.uk/subscribe 
Details from Epsom & Ewell Borough Council