Play Is The Best Medicine - Children thank Simplyhealth for £40k donation to fund play.
As communities up and down the country mark Playday 2016 (3 August), The Children's Trust said a special thanks to health plan provider Simplyhealth for funding a Health Play Specialist as well as outings and activities throughout the year.
Every year over 40,000 children in the UK are left with a brain injury as a result of an accident or illness. Based in Tadworth, Surrey, The Children's Trust offers the largest residential brain injury rehabilitation unit in the country. And it's thanks to generous donations that children who receive treatment at the centre are given time to forget their condition and focus on fun, all organised by The Children's Trust Play Team.
The Play Team works directly with the children, organising play activities and taking them on day trips – things that can make the crucial difference to a child's rehabilitation. They help children settle in, rebuild confidence and self-esteem, and the Health Play Specialists support them through medical procedures. Through play children practice the skills they learn in rehabilitation sessions in a fun and exciting way.
Annie Murphy, Leisure and Activities Coordinator said: "Often children don't even realise the valuable progress and development they are making during play activities. It's so important that children are given the opportunity to be children, rather than just a patient, especially after long periods in hospital."
Sarah Ford, Chair of Simplyhealth Charitable Committee, said: "We're delighted to support The Children's Trust, and fund a specific role that we know will make a crucial difference to the children receiving treatment. Every child deserves the right to enjoy play time and be creative, and it's particularly important for children recovering from an illness or trauma. Through heart-warming stories like Shakeerah's, it's clear how vital play is to help children with their recovery and to make the most of life." 
Shakeerah's story (bottom right on the main picture)
Three-year-old Shakeerah from Banstead was diagnosed with a brain tumour in October 2013. After multiple surgeries including having a shunt fitted, many months of chemotherapy and spending almost two years in hospital, Shakeerah moved to The Children's Trust. Just two months into her treatment, she is doing well and making great progress and is enjoying playing with the wide variety of toys available to her.  
Rachel Horton, Play Specialist at The Children's Trust, said: "Shakeerah communicates in Makaton so we have been learning to sign nursery rhymes such as The Wheels on the Bus and Row Your Boat to help aid her communication and social skills. Shakeerah also enjoys wooden puzzles which helps with her gross and fine motor skills and to learn numbers." 
How your money helps
£7.50 for a child to visit a local farm (Hobbledown)
£90 for a group of 3-4 children to go on a two hour canal boat trip (Guildford)
£10 per child to go to Kew Gardens at Christmas
£11 per child to go to the local theatre (Harlequin Theatre, Redhill)
£19.58 per child to go on the London Eye with an accessible river cruise

To donate to The Children's Trust visit www.thechildrenstrust.org.uk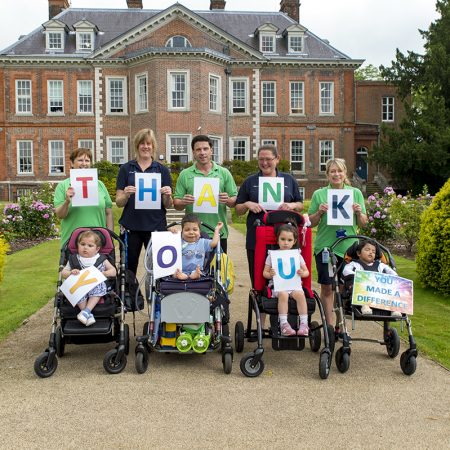 About The Children's Trust
The Children's Trust is the UK's leading charity for children with brain injury.
Every year we support thousands of children and families right across the country.
We provide rehabilitation to help children make the best recovery possible after a serious accident or illness, both at our national specialist centre in Tadworth, Surrey and in the community. We run a special school for children with profound and multiple learning difficulties and provide transitional medical care to children with complex health needs. We have an extensive research programme and provide online support for families all over the UK.