Phil Tufnell 'moos' a happy birthday at children's charity @Childrens_Trust #BrainInjury
Cricket star, Phil Tufnell joined a special birthday party at The Children's Trust, Tadworth, this month. The cow themed party was for three year old Kai who is staying at the centre for rehabilitation following a brain injury.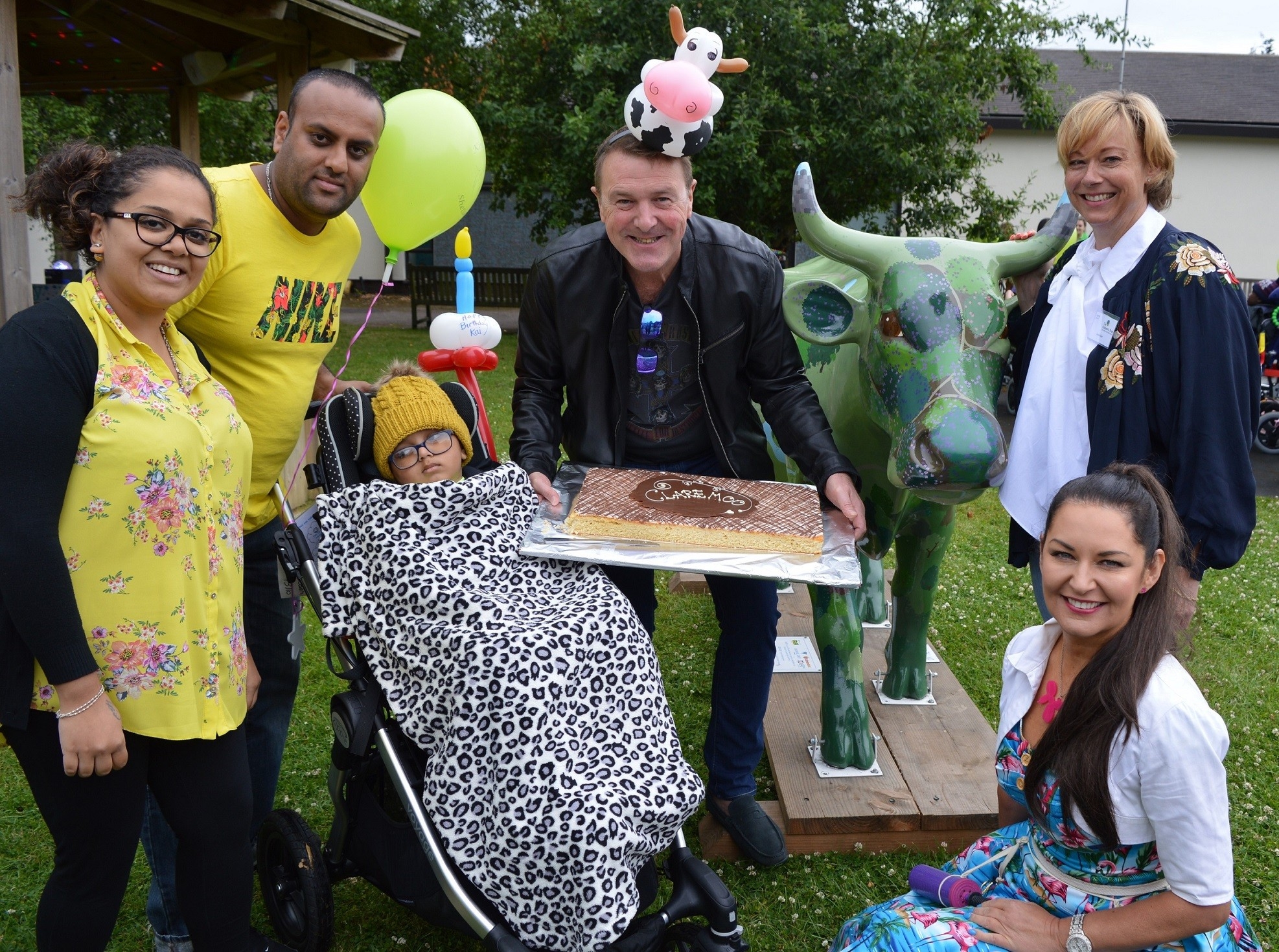 Picture caption (L-R): Kai's parents Niyutee and Rakesh, Kai, Ambassador Phil Tufnell, supporter Louise and balloon modeller Natalie pose with VIP guest 'Claremoo' 
Joining Phil as a VIP guest was 'Claremoo', a cow statue from the Surrey Cow Parade in 2016. Claremoo was donated by supporter Louise Kerr who also funded the party. Claremoo will stay at the charity over the summer before being auctioned to raise much needed funds in the autumn. 
Along with special guest Claremoo there were Shetland ponies dressed as unicorns, balloon sculptures and face painting fun for all who attended. 
Celebrating Kai's birthday was an important milestone after what has been a difficult year for him and his family. Kai was involved in a road traffic accident last summer which left him with multiple broken bones, and a brain injury which affected his communication, sensory and physical abilities. Kai was in hospital for four months before coming to The Children's Trust for rehabilitation. His mum Niyutee has been living in the on-site parent's accommodation and attending therapy sessions with him while at the centre. 
After the party Niyutee said: "Kai's birthday was a big day for us and it was made really special by all of the staff at The Children's Trust, and with a visit from Phil!  We loved the cow theme and had a lovely afternoon enjoying the treats." 
Phil, who is an ambassador for The Children's Trust said: "We had a great afternoon celebrating Kai's birthday. The children were chuffed with all of the 'amoosing' entertainment there was to enjoy and having Claremoo to top off the theme was fantastic!" 
About The Children's Trust
Every year 40,000 children in the UK are left with a brain injury as a result of an accident or illness and many have to live with ongoing, long-term difficulties. The Children's Trust gives children and young people with brain injury and neurodisability opportunities to live the best life possible, by providing specialist rehabilitation, education and community services across the UK.