National Citizens Service Summer Programme - The Challenge help #Epsom Medical Equipment Fund @NCS
12th August 2019
... Comments
---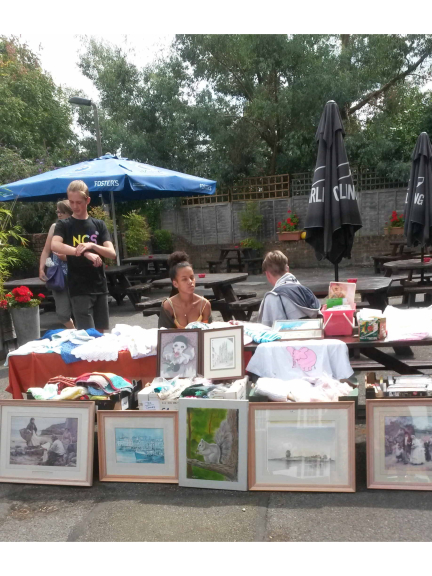 11 teenagers from the National Citizens Service Summer Programme under the supervision of George descended upon The Famous Green Man in Ewell High Street to help raise money for Epsom Medical Equipment Fund at their 40th Anniversary Fayre to go towards the purchase of medical equipment for Epsom General Hospital.
The young boys and a couple of little girls tried their hand at Beat the Goalie whilst others participated in board games.   Some beautiful designs were seen in those who had their faces painted.   Three of the youngsters sold childrens knitwear, tea cosies and pictures. A tombola was run which attracted attention whilst other members of the team showed off their expertise at dancing whilst passers by threw money into heir buckets.
A bar-b-que and paella was available for sale for those who wanted a hambuger, sausage or who were tempted by the Chef's specialty, paella which was delicious and tasty.   Thanks go to John and Clive for making all the necessary arrangements.
The day raised £146 for EMEF. The day prior to this the youngsters had taken part in a sponsored walk around Boxhill, Ranmore and the Denbies Estate covering nearly 20 miles. The group then had a day in Epsom Town Centre where they highlighted the work of Epsom Medical Equipment Fund.
The youngsters hope to raise £500 when all sponsorship monies are in.   If you would like to support them please make your donation payable to Epsom Medical Equipment Fund and send to 32 Tealing Drive, Ewell, Surrey, KT19 0JS – notating on the back of the cheque The Challenge.
Further information from Bess Harding Tel: 020 8337 8181