METRO Bank is coming to Epsom High St @epsomewellbc @Metro_Bank
1st August 2013
... Comments
---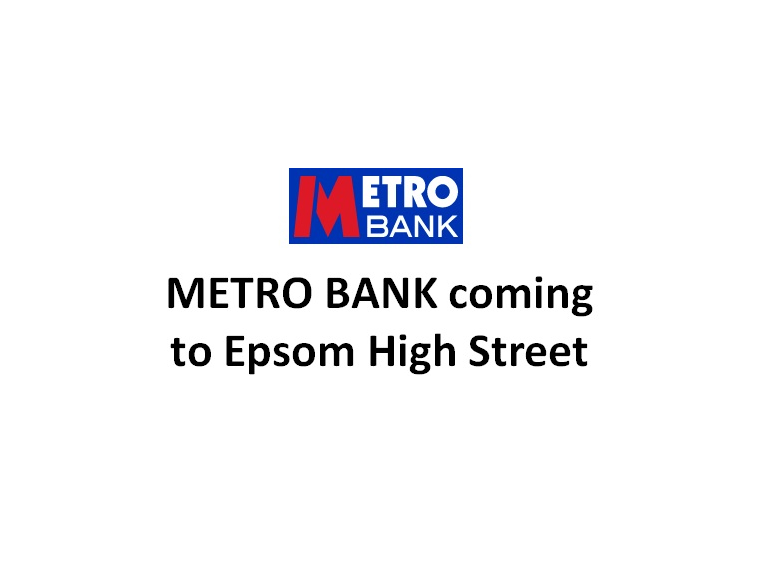 A new look for an old friend

Epsom & Ewell Borough Council is very pleased to welcome Metro Bank to the Borough. The new bank will be situated at 91 High Street, Epsom; a building with local historical importance.

Metro Bank is Britain's first new High Street bank in over 100 years. The bank launched in July 2010 and has grown to over 200,000 personal and business accounts across 19 stores in London and the South East. It plans to open 200 stores by 2020.

Councillor Neil Dallen, Chairman of the Epsom & Ewell Borough Council S&R Committee said: "Metro Bank coming to Epsom will have a positive economic impact on the town. Epsom being selected by Metro Bank validates the town as an attractive location for national retailers as it continues to grow and prosper".

Craig Donaldson, Chief Executive Officer of Metro Bank, said: "We're delighted to be able to bring the banking revolution to the people of Epsom. We are focused on providing our customers with the very best in service and convenience, with our stores open 7 days a week, early and late, 362 days a year, as well as offering 24 hour online and telephone banking. We believe in our motto of 'Local Bankers Making Local Loans' and each of our stores is run by a local bank manager who makes local lending decisions. Epsom is a great personal and business community for us to be in and we have found a fantastic location to serve it from."

However, getting the bank to Epsom was not plain sailing. Councillor Graham Dudley, Chairman of the Planning Committee explained "This building, which many people will remember as the White Hart pub, forms part of the high street conservation area. Reconciling this with Metro Bank's distinctive brand and visual appearance was never going to be easy, and I would like to pay tribute to the way in which the bank and the planning department have worked together to bring about an acceptable compromise".

The first record of a building at 91 High Street was in 1687 for a blacksmith's forge. By 1832 this was the address of the White Hart public house, which in the early 20th century was called the White Hart Hotel, offering four beds for lodgers and stabling for six horses. The pub closed in the mid 1980's and the building became a shop, first for china and more recently subdivided into a card shop and bank. The large model of a stag, that crowned the building when it was a pub, was donated to Bourne Hall Museum in 1985 where it remains on display.
Press release from Epsom & Ewell Borough Council