Latest news from Chris Grayling MP
24th September 2014
... Comments
---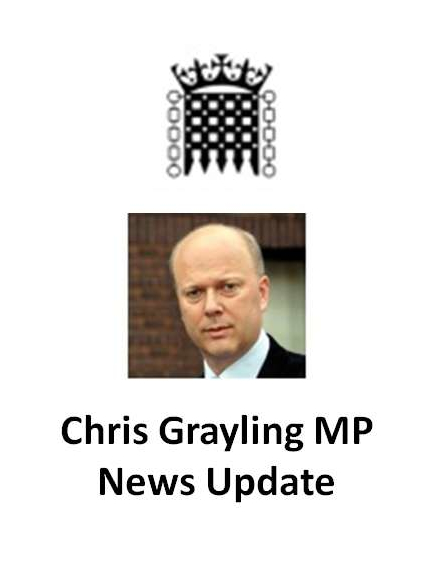 Information received 24th September 2014
"Dear constituent 
I am writing to let you have some good news about the campaign to get Epsom into the Oyster Card area. I have just received confirmation from Southern, who run Epsom Station, that they have agreed with the Department for Transport as part of their new franchise agreement, that Oyster Cards will become available for use in Epsom. The target date for this to happen is September of next year. Full details are yet to be made public, and I am not sure whether this will involve Epsom being in Zone 6, or, as happens in some areas north of London, whether it will be put into a special Zone 7. I am due to meet the Department for Transport shortly to discuss all of this. 
However I am very pleased – and I hope you will be too – that all the efforts have paid off, and that Epsom is now on track to get Oyster cards next year. 
You might also be interested to know that the Southern Key Card, which has been rather limited in its useage up to now, has now been updated so you can put weekly, monthly and annual travelcards onto it (one day travelcards will be available early 2015) and it can now be used on tubes and buses as well. Although it does not currently have a pay as you go facility as the Oyster Card does. 
With best wishes
Chris Grayling "
This is one of Chris's regular email updates for constituents. If you would like to reply to Chris please email him at: chris.grayling.mp@parliament.uk.
Chris also holds regular Advice Surgeries in the constituency.  These surgeries give Epsom & Ewell constituents the opportunity to discuss matters which are important to them.  If you would like to arrange a 15 minutes appointment please contact the constituency office on 01372 271036.