Latest news from Chris Grayling MP #localnews #Epsom
16th June 2015
... Comments
---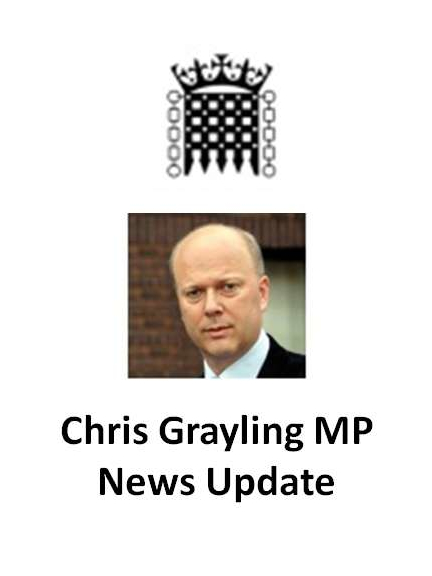 Information received on 16th June 2015:
"Dear constituent 
I am writing first of all to thank all of those who supported me in the recent election, but as always to say that I will be there for the next five years to help and do my best to represent everyone in the constituency, regardless of their political views.
In this Parliament, I will be continuing my usual rota of surgery venues, alternating between Stoneleigh Library, Tattenhams Library, the Conservative Club in Epsom and my constituency office in Ashtead, with surgeries every other Friday. If your issue is more urgent, you can always email me or ring my office on 01372 271036, either to make an appointment at a surgery or to seek more immediate help. 
I will continue to provide regular updates by email about local issues and problems. 
Most immediately I am due to meet the new Chief Executive of the Epsom and St Helier NHS Trust in the next couple of weeks in the wake of what he himself has called "Traingate", the revelation on a train that he had already taken on consultants to look at building a new hospital in Sutton. Despite this inexplicable decision, I do not believe there is any immediate threat to acute services at Epsom Hospital. But my initial impression that the new Trust leadership had finally started to focus on turning Epsom into a healthcare campus with a broader mix of services on the site, including closer working with GP services, community services and mental health services, has certainly been dashed, and we will all need to be very vigilant. I have no doubt that some of the doctors in South West London who tried to get services moved to St George's eighteen months ago will try again now the election is out of the way. However it is also clear that there is no money for major new hospital developments. So I am as confident as I can be that services at Epsom will be secure for the time being. 
With best wishes
Chris Grayling" 
This is one of Chris's regular email updates for constituents. If you would like to reply to Chris please email him at: chris.grayling.mp@parliament.uk.
Chris also holds regular Advice Surgeries in the constituency.  These surgeries give Epsom & Ewell constituents the opportunity to discuss matters which are important to them.  If you would like to arrange a 15 minutes appointment please contact the constituency office on 01372 271036.