Inspired by daughter #Epsom Dad prepares for 80 mile cycle @Childrens_Trust #MyBrave
21st August 2017
... Comments
---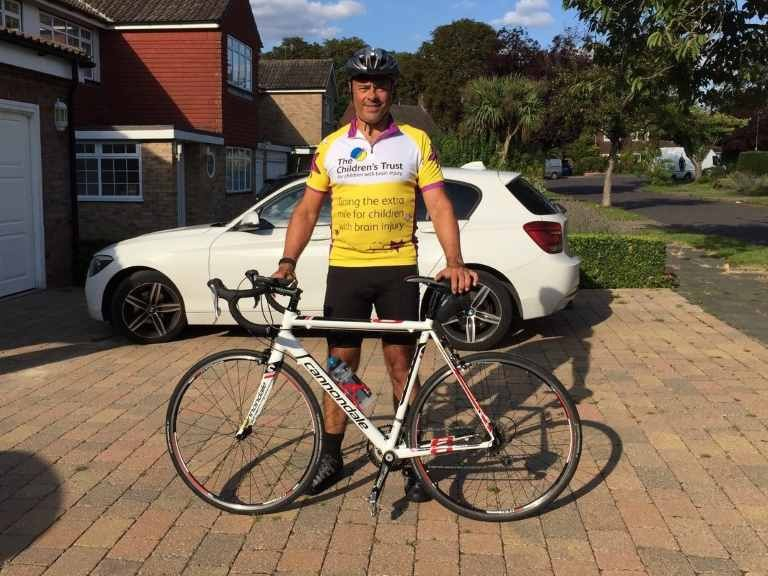 Local dad, John Day, from Epsom and his 20-strong team of cyclists are taking on the London to Canterbury Cycle Challenge next month (10 September), in aid of The Children's Trust. The team, named 'Bel's Bikers', were inspired by John's teenage daughter, Annabel, who received specialist brain injury rehabilitation at the charity following an unexpected brain haemorrhage last year.

The team, which consists of cycling veterans and first-timers, hope to raise over £4,000 for the children's charity by taking on the 80 mile challenge. They will be setting off from Kidbrooke SE1 in the early hours finishing in Canterbury in around 7 hours John predicts if all goes to plan.

Annabel aged 15, stayed at The Children's Trust in 2016 following a sudden brain haemorrhage. She had to undergo brain surgery and after seven weeks in hospital was transferred to The Children's Trust for intensive rehabilitation. She underwent a therapy programme to help her regain skills and confidence.

John said: "Annabel has been incredibly strong and determined throughout the last year and we are so proud of what she has achieved. She has made a fantastic recovery and is now back at school.  Taking part in this challenge is my way of saying thank you to the incredible professionals at The Children's Trust who made an enormous difference to Annabel's recovery. Without their support we might not be where we are now as a family, so taking on a #MyBrave challenge for both the charity, Annabel and the other children they support, who all have their own unique challenges, seemed an obvious thing to do. Roll on 10th September, it promises to be an exciting challenge, we can't wait!"

John's #MyBrave challenge is taking on The London to Canterbury Challenge – what's yours? The Children's Trust campaign #MyBrave encourages everyone to go outside of their comfort zone, take on a challenge and do something brave to help raise money for children with brain injury. If you would like to take part in The London to Canterbury Cycle Challenge or a #MyBrave challenge, please visit www.mybrave.co.uk 

Picture caption: John with his bike preparing for The London To Canterbury Cycle Challenge
 

About The Children's Trust
Every year 40,000 children in the UK are left with a brain injury as a result of an accident or illness and many have to live with ongoing, long-term difficulties. The Children's Trust gives children and young people with brain injury and neurodisability opportunities to live the best life possible, by providing specialist rehabilitation, education and community services across the UK.
www.thechildrenstrust.org.uk 

About #MyBrave
#MyBrave is...Bravery isn't only heroic acts. Sometimes it's about facing your fears, rising to the challenge and overcoming obstacles, like many of the children with acquired brain injury have.
The Children's Trust is encouraging everyone to go outside their comfort zone, take on a challenge and do something brave to help raise money for children with brain injury.

https://www.thechildrenstrust.org.uk/mybrave