Hoisting The Mayor – at #Epsom Hospital with Epsom Medical Emergency Fund #EMEF @EEMayorsCharity
8th August 2019
... Comments
---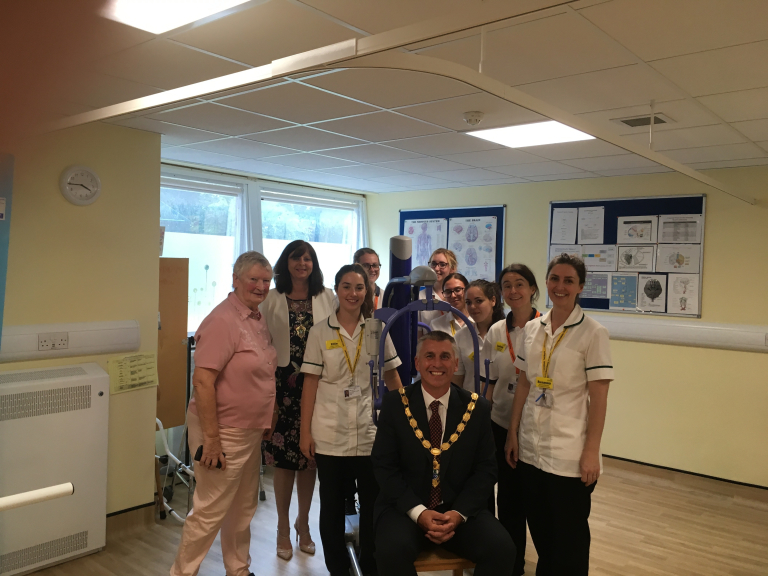 The Mayor & Mayoress of Epsom & Ewell, Cllr. John and Mrs. Alison Beckett paid a visit to the Neuro Physiotherapy Unit at Epsom General Hospital where he met Richard Stacey, Head of Epsom Therapies with the neuro physiotherapy and occupational therapy teams who play a vital role in the rehabilitation and recovery of stroke and head injury patients at Epsom General Hospital.
The Mayor, Cllr. John Beckett during his visit presented a £4,310 hoist on behalf of Epsom Medical Equipment Fund to the physiotherapy team to replace the 14 year old hoist previously purchased by the Fund which had reached the end of its life. Neuro Physio, Lavinia Rizzacasa had requested the help of Bess Harding and Epsom Medical Equipment Fund to purchase a new hoist as the original hoist could not be used after April and there were no funds available to purchase a new one as it was needed to assist in the care of patients without which they could not carry on the excellent treatment required. Epsom Medical Equipment Fund have provided many items of monitoring equipment in the past to enable the Acute Stroke Unit to be set up as well as equipment to help in the rehabilitation of patients.
The Mayor, Cllr. John Beckett was interested to learn all about the hoist and the important role it played in the treatment of stroke and head injury patients.   The Mayor expressed his thanks and gratitude on behalf of the Borough to Fund Organiser, Bess Harding, MBE on her 40 years of fund raising for medical equipment for Epsom General Hospital and for providing £5m of equipment which was benefitting the local community.
Those present were interested to hear about the Mayor's time in office and the events he had attended to date.
Head of Epsom Therapies, Richard Stacey paid tribute to Bess Harding and her small team by saying "thank you to the Epsom Medical Equipment Fund for this essential piece of equipment which will help us in the rehabilitation of patients on Britton Ward.   This equipment is state of the art and will really assist in our work on a daily basis".
Donations are most welcome and should be sent to Epsom Medical Equipment Fund at 32 Tealing Drive, Ewell, Surrey, KT19 0HS.   Please sign up to our newsletter by going on our website www.emef.org.uk to find out what events we are running in the coming months.
Further information from Bess Harding Tel: 020 8337 8181