Grandad Mike supports charity appeal for people to leave a gift in their Will @Childrens_Trust
The Grandfather of a girl helped by The Children's Trust after she had a stroke is asking people to consider leaving a gift in their Will as part of the charity's Legacy Awareness Week (8-15 October).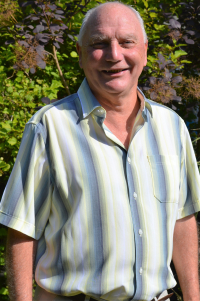 Mike Archer, 73, became involved with The Children's Trust, based in Tadworth, Surrey, five years ago when his six year old granddaughter Molly suffered a brain haemorrhage which left her unable to walk, talk or even swallow. 
Molly underwent rehabilitation at The Children's Trust and made incredible progress. By the time she left, she was ready to start attending school again. Mike was so inspired by all of the children, families and staff he met at The Children's Trust that he decided to get more involved in the charity and became a volunteer. 
Affectionately known by staff at the charity as 'Grandad', Mike travels from Hertfordshire on a weekly basis to help out with volunteering tasks. But his favourite thing is reading stories to the children and bringing a smile to a child's face after they have been through a traumatic and life changing experience. 
Mike says: "It's very humbling to see the children, who have often been in hospital for a long time, progress and get a little bit better each day. Hopefully by being here I can make their stay that little bit easier. It is a privilege and a pleasure to be involved, and I would appeal to anyone thinking of making a gift to charity in their will to consider The Children's Trust, it's such a special place." 
Mandy Kendrick, fundraiser at The Children's Trust, said: "We are so thankful for the support we receive. It's difficult to put the difference supporters, like Mike, make to the lives of the children we help – it's not an exaggeration to say that it's life changing. Gifts left in wills, no matter how small, are incredibly valuable to The Children's Trust; they help ensure we can continue our vital work in the future, helping to support children with brain injury across the country."
To find out more about supporting The Children's Trust thechildrenstrust.org.uk or visit one of The Children's Trust charity shops.
About The Children's Trust
The Children's Trust is the UK's leading charity for children with brain injury.
Every year we support thousands of children and families right across the country.
We provide rehabilitation to help children make the best recovery possible after a serious accident or illness, both at our national specialist centre in Tadworth, Surrey and in the community. We run a special school for children with profound and multiple learning difficulties and provide transitional medical care to children with complex health needs. We have an extensive research programme and provide online support for families all over the UK.