Good luck Team Epsom & Ewell for the Specsavers Surrey Youth Games @EpsomEwellBC @activeSurrey
Team Epsom & Ewell is all set for the Specsavers Surrey Youth Games 2019 this weekend, Saturday 15 and Sunday 16 at the prestigious Surrey Sports Park in Guildford. 
148 young people aged 6-16 have been selected to represent Epsom and Ewell. They will be taking part in a wide range of sports – Badminton, Boccia (a sport for young people with learning difficulties and physical impairments), Boxing (contact and non-contact), Football, High 5 Netball, Hockey, Judo, Lacrosse, Netball, Squash, Table Tennis and Tennis. 
Yesterday, Team Epsom & Ewell gathered for the first time for an afternoon reception hosted by the Royal Automobile Club at Woodcote Park for the children and their parents and coaches. The highlight for many was the opportunity to ride in vintage cars, some over a hundred years old.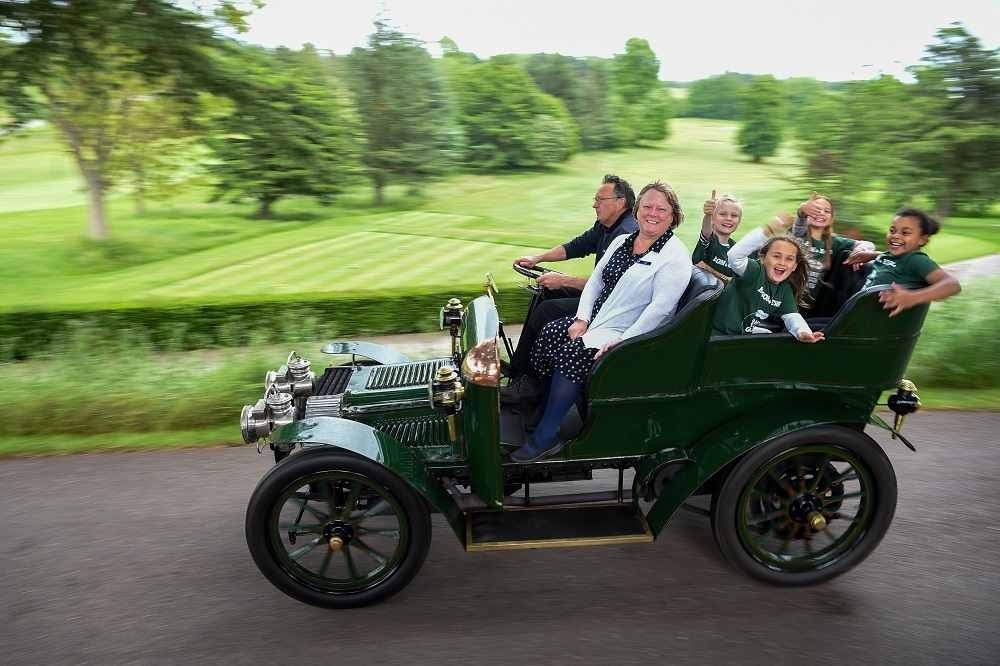 Speaking at the event, the Mayor of Epsom & Ewell, Councillor John Beckett commented, "We are proud to have so many committed young sportspeople taking part in this year's Games. I want to thank all the sports coaches and clubs for their voluntary support and dedication to help prepare Team Epsom & Ewell. Thank you to our main sponsors, Better for their ongoing support and to the parents of all the participants too. 
"A very special thanks to the Royal Automobile Club who have once again provided this excellent reception to see the team off! And for their support of the Games, our young people have benefited from the extra training and coaching sessions for tennis and squash at the Club. 
"Finally, Go Team Epsom & Ewell! Enjoy the experience and remember that what is important is not whether you win or lose, but that you have given your best effort. Good luck!" 
504 young people aged between 6 and 16 registered to take part in the free trials and coaching sessions organised by the council over the last three months. From these the squad of 148 was selected for the Epsom and Ewell team and will compete with teams from ten other Surrey boroughs and districts. 
Now in its 23rd year, the Specsavers Surrey Youth Games is the largest youth multi-sports competition in Surrey. Surrey's 11 districts and boroughs enter teams of 6 - 16 year olds which they have recruited and trained into a variety of indoor and outdoor sports - including some for young people with disabilities. 
Stay up to date with Team Epsom & Ewell's journey for this year's Games @EpsomEwellBC on Twitter, Facebook and Instagram. 
The Specsavers Surrey Youth Games is the largest multi-sport youth competition in the county. Spread over the weekend of the 15-16 June it brings together 6-16 year olds from Surrey's 11 districts and boroughs (age 7-18 for disability sport boccia, if still in Key Stage 4 & full time education) who have had free training from their borough in their chosen sport. The Games will be hosted at Surrey Sports Park in Guildford. For more information visit www.activesurrey.com/SYG   
Images from yesterday's good luck reception at the Royal Automobile Club at Woodcote Park, Epsom - Image #1: Team Epsom & Ewell squad 2019; Image #2: Team Epsom & Ewell enjoying the vintage car rides.by Andy Newbold 
For information on the Specsavers Surrey Youth Games please see www.epsom-ewell.gov.uk/syg