Epsom Wellbeing Centre now open – raising awareness of dementia @epsomewellbc
28th June 2013
... Comments
---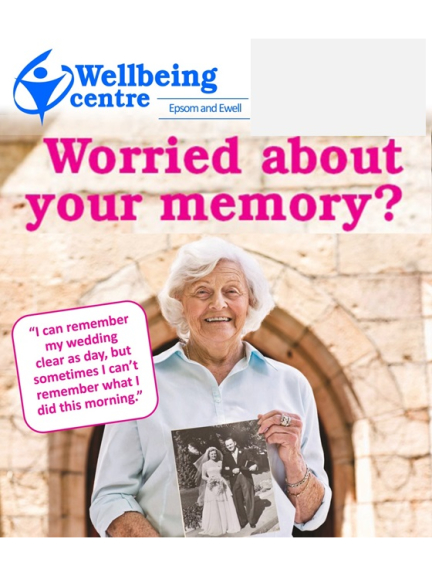 Wellbeing Centre opens

The Epsom & Ewell Wellbeing Centre has been officially launched with an open day featuring the volunteer groups, councils and care organisations that have partnered to establish the facility for the residents of Epsom & Ewell.

Councillor Jean Steer from Epsom & Ewell Borough Council explained "The drive for the Wellbeing Centre is to raise awareness of dementia, to help improve early diagnoses rates and to offer support and information to sufferers and their caregivers, who are often family members. As Chairman of the Social Committee, I am committed to developing the services we offer the residents of the Borough, particularly the older residents, who are often isolated and need help to access the information that will allow them to stay in their own homes. This Wellbeing Centre will provide informal drop-in sessions (no need to book or be referred or to tell anyone else) and perhaps whilst here the individual can also take advantage of the activities at the adjoining social centre".

Dr Aalia Khan, dementia lead at the Surrey Downs Clinical Commissioning Group commented "Dementia and memory problems are often thought of as taboo subjects. As a GP, I see the distress caused to an individual, their caregivers and their family with a late diagnosis of dementia; there is less time to discuss treatments, make plans for the future, to think about how the caregiver can be supported; there is no time to plan to avoid a crisis, because they are already in one; less time for the person with dementia to discuss their diagnoses and their wishes with loved ones; and little opportunity to benefit fully from the excellent support and services available from the voluntary sector and other agencies. One day I hope to see dementia spoken about in the same way cancer is now; as something to overcome, not something to succumb to. I know that if the organisations who have partnered to establish this Wellbeing Centre continue to work together as they have done so far, we will go some way to achieving that goal".

Steve Cosser, Surrey County Council Cabinet Associate for Adult Social Care, said "As people live longer we can certainly anticipate a significant growth in the number of people in society with dementia. This will without doubt be an issue in Surrey which has the largest and fastest growing population of those aged over 85. The government has made clear that providing effective social care is as central to driving improvements for people with dementia and their caregivers as medical interventions. The County Council is determined to meet the challenges it faces in this regard but critically realises and understands that effective action is only possible by working closely with all our partners, both statutory and voluntary. I was staggered to see that no less than a mixture of ten different statutory and voluntary organisations and groups have an involvement in this local partnership in Epsom. The comments I have had from staff in Adult Social Care refer to a 'really positive partnership experience' in Epsom involving all the many partners involved".

As well as scheduled visits for treatments and diagnoses, informal drop-in times for a chat and to see what services are available are Monday – Friday, 09.30 – 14.30.

The Wellbeing Centre has been created through the Borough Council working in partnership with the County Council, the Surrey Downs Clinical Commissioning Group, the Alzheimer's Society, Age Concern Epsom & Ewell, Age UK, Appleby House and Surrey & Borders Partnership NHS Trust.
 Press release from Epsom and Ewell Council
The Epsom Wellbeing centre is located at:
Longmead Centre,
Sefton Road,
Epsom KT19 9HG
01372 720563