Epsom Rotary Club working for the community @EpsomRotary
To mark his new Presidency, which began this Summer, Harry Corben would like to highlight three, amongst many, of the activities the Club has carried out in recent months.
FIRST TOUCH
The Club raised £450 through a quiz night for a charity called First Touch. First Touch is a registered charity supporting the Neo-Natal Unit atSt George'sHospital, Tooting. It provides support and a counselling service for parents. 
The then Club president, Clive and his wife Anne, had a personal interest in this Charity as their grandson Thomas was born critically ill and was looked after by the neo natal unit through some very dark times. Happily Thomas was eventually able to leaveSt George'sand is now a thriving little boy who is the pride and joy of his mummy and daddy.
During these traumatic times it is so important to provide support for families as the outcome can be so uncertain. They cannot have a normal parents interaction with their baby and this is where First Touch comes in because it provides compassionate support to the family  Sometimes that need continues after the baby has left hospital and First Touch will still be there to help.
Epsom Rotary Club believes charities such as First Touch deserve our help and support. If you would like to know more about First Touch please follow this link to their website https://www.first-touch.org.uk/
THE ALLOTMENT PROJECT
Did you know that Epsom and Ewell Rotary Cubs have set up and are running a community allotment project? It will provide food for the local Epsom food bank and other charities as well as a friendly atmosphere for people to work together.
The two Rotary Clubs are grateful to Surrey County Council's Communities and Prevention Department for suggesting this very worth while project and for supporting it with a generous donation to buy a tool shed as well as negotiating  support from local company, Green Thumb to help in the grass clearing stage and gave a link into youngsters who built the raised beds.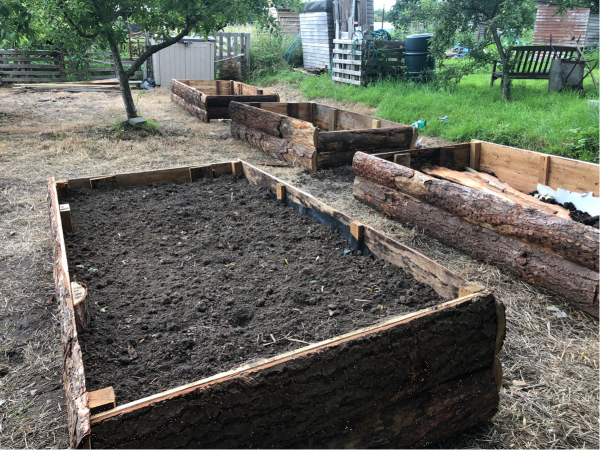 More details can be found if you follow this link https://www.rotary-ribi.org/clubs/page.php?PgID=839319&ClubID=874  If you have skills which may be of use or want to take part, please contact Maria Anstiss anstissmaria@gmail.com
KEEP EPSOM AND EWELL TIDY (KEET)
Epsom Rotary Club recently donated £150 to enable KEET to buy more litter picking equipment, including Ernie (pictured), the long handled favourite which can reach places other litter pickers can't reach.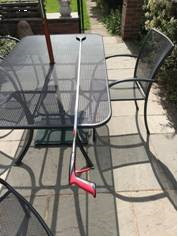 KEET is the initiative of Epsom and Ewell resident, Lerryn Reynoldson, who quickly had the support of others and a common purpose of encouraging residents to help improve and enjoy the Borough's environment. It all started with litter picking which is still KEET's primary activity. KEET is now engaging with the Council, Councillors, local organisations and schools in other ways that we can all improve our Borough. There has already been a Borough - wide community litter pick and a trial of leaving litter picking equipment with cafes in our parks is currently under way. You will also find KEET at the Eco Fair at St Martin's Church on 25th September. If you want to know more about KEET head over to their Facebook page, just type in Keep Epsom and Ewell Tidy. Join KEET and make a difference to the environment.
To find out more about see more about Epsom Rotary Club does for the local community please follow this link to our website. https://www.rotary-ribi.org/clubs/homepage.php?ClubID=874