#Epsom Mayor salutes local Olympic stars #OlympicStars @GLLSF @EpsomEwellBC
The Mayor of Epsom & Ewell, Councillor Peter O'Donovan, was eager to personally congratulate the three local athletes who recently represented Team GB in Tokyo. 
Sarah Jones and Leah Wilkinson competed in the Women's Hockey, winning bronze, and Jessie Knight competed in the 400m hurdles.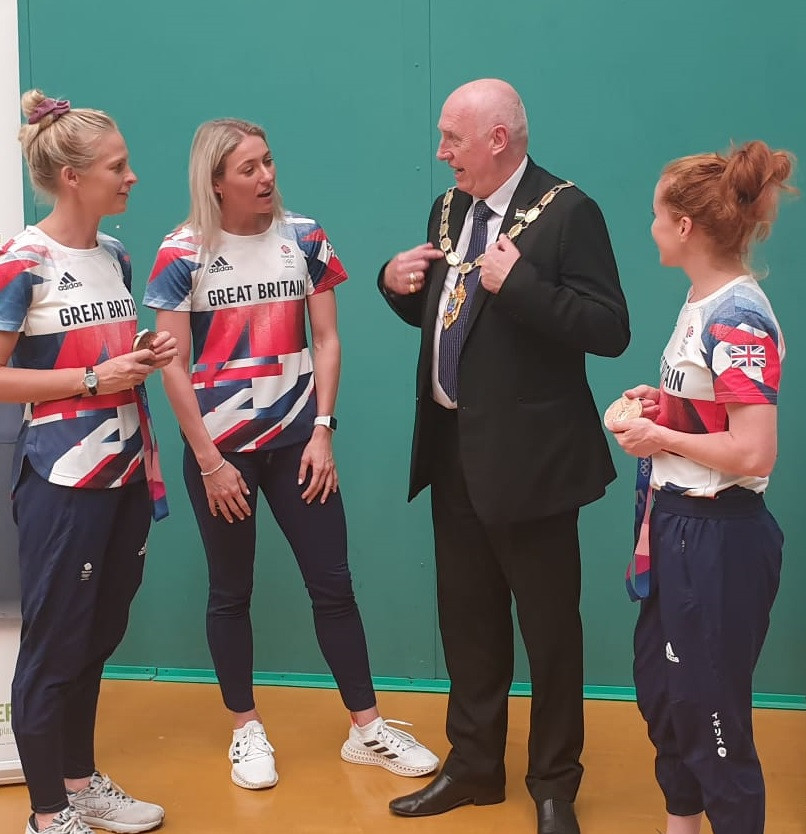 The Mayor met the athletes at Epsom's Rainbow Leisure Centre on Tuesday 7 September 2021 and told them "The Olympic Games are the pinnacle of sporting achievement, and you made it! 
"In normal times your hard work and passion for your sport would be an inspiration but following a period uncertainty for us all, and with the games being postponed for a year, your achievement has been all more special. 
"I know you are motivating the next generation of the borough's athletes to fulfil their dreams of taking part in sport at the highest level". 
All three athletes live, work and train within the borough. All three have received support from the GLL Sports Foundation (GSF) - GLL, as Better, operate the Rainbow Leisure Centre & Spa in East Street, Epsom, on behalf of the Council. 
The Mayor added "I want to use this opportunity to thank everyone involved in all the various sporting clubs and facilities across the borough, who provide fantastic encouragement and training to local people, however they pursue their sport."
Over 13 years, the GSF has supported over 10,000 young athletes on their sporting journey in disciplines from swimming and athletics to wheelchair tennis and wheelchair basketball - making it the largest independent athlete support programme in the UK
The athlete awards cover Olympic, Paralympic, Deaflympic, Special Olympic and Commonwealth sporting disciplines.
With a 97% of award recipients receiving no other sport funding and 63% of recipients being aged under 21, the GLL Sport Foundation addresses a vital funding gap for young talented athletes currently competing and National and international levels.
Chosen athletes receive free training memberships to use leisure centre facilities across 300 plus GLL and partner-operated sporting venues. 
Applications for this year's athletes will open in December 2021 (date TBC). For more information please visit - https://www.gllsportfoundation.org/