Caring Cairds @CairdsEA supports @SunnybankEpsom working with people with learning disabilities
Local estate agent, Cairds, are announcing their support of The Sunnybank Trust, a local charity that supports people with learning disabilities in Epsom, Ewell and the surrounding areas.
Cairds have chosen to partner with The Sunnybank Trust after owner, Simon Caird, came to visit the charity's weekly social club and saw first-hand the great work The Sunnybank Trust are doing in the local community.
Simon Caird, Cairds' Managing Director, said: "We are very proud to be supporting The Sunnybank Trust.  Having been to visit Kites Club I've had the chance to experience first-hand what a valuable difference the charity is making, and I'm excited to be helping tell as many people as possible about the great work they do."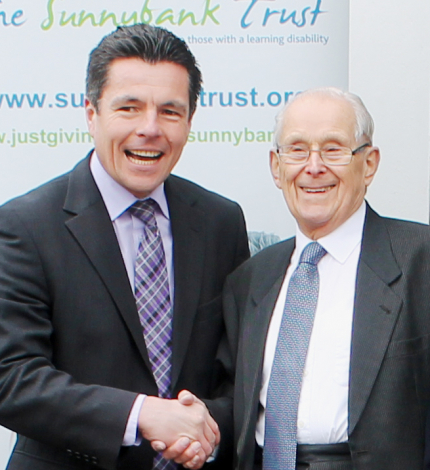 The Sunnybank Trust has three main strands: inclusion, friendship and justice.
In their justice strand, The Sunnybank Trust runs an advocacy programme, whereby volunteer advocates support people with learning disabilities so that their voices are heard, their choices about their own lives are respected, they can access the services they need and that they are safe from abuse.
Friendship runs right through everything at Sunnybank, but formally the charity facilitates a pen-friend and in-person befriending scheme.  Many of Sunnybank's beneficiaries have never received a personal letter before, so the penfriend schemes opens up a whole new area of communication.  In-persona befriending can involve a person visiting a group home and spending time with all the residents, or it can involve having a one-to-one friend that the volunteer might go out for coffee or on trips with, or just visit at home with for a natter and a cuppa.
Inclusion services also promote togetherness and friendship through a different medium – namely the weekly social club (Kites Club) and drama group (The Happy Kings and Queens).  Each week Kites Club puts on a variety of activities, including music workshops, sensory nights, and visits from local services like the police, alongside a café, arts and crafts corner and quiet space. The Happy Kings and Queens are currently developing their interpretation of The Wonderful Wizard of Oz ahead of the Epsom and Ewell Art Festival.
Thanks to the support from Cairds, The Sunnybank Trust will benefit from extensive advertising, as the charity's logo will now be included on all Cairds sales and lettings boards in the area.  This makes a huge difference to the reach of the charity, meaning more people know about the work Sunnybank are doing and the issues around learning disabilities that affect people in the local community. 
Cairds will also be making a donation for every sales/lettings board that goes up bearing The Sunnybank Trust logo.
The Sunnybank Trust CEO, Dorothy Watson, said: "We are very grateful for the support Simon and the team at Cairds have shown.  It marks an exciting time for The Sunnybank Trust, as we're able to increase the number of people who are aware of the issues surrounding learning disabilities and the work we are doing in the local community."
The Sunnybank Trust is based in Epsom and helps people with learning disabilities live fuller lives and enable them to have more control over decisions that affect them.
The charity provides -
A befriending service, partnering volunteers with those who are often socially isolated
An advocacy programme
A weekly social club and drama club
Website: www.sunnybanktrust.org
Facebook: www.facebook.com/sunnybanktrust
Twitter: @SunnybankEpsom
JustGiving: www.justgiving.com/thesunnybanktrust 
For more information contact Rachel Henderson ( rachelhenderson@sunnybanktrust.org ) or Dorothy Watson ( dorothywatson@sunnybanktrust.org ) on 01372749871.