Braving the Elements, Local Councillors Support 20 Diligent 1st Tattenhams Cubs To Clean Up Tadworth, Preston and Tattenham (Surrey) @CleanUpTadworth
25th May 2021
... Comments
---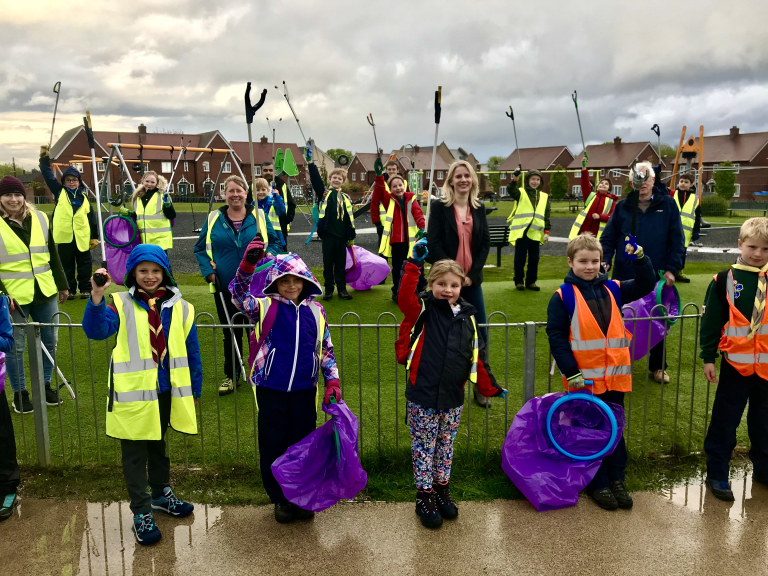 On Monday, 24th May, 2021, Cllr Rebecca Paul (Surrey County Councillor for Tadworth, Walton and Kingswood), Cllr Nick Harrison (Surrey County Councillor for Tattenham & Reigate and Banstead Borough Council for Preston) and Cllr Zelanie Cooper (Reigate and Banstead County Councillor for  Lower Kingswood, Tadworth and Walton), along with volunteers from Tadworth Kingswood Walton & Burgh Heath Litter Pickers - @CleanUpTadworth braved torrential rain to host an evening litter pick for 20 diligent and most enthusiastic members of 1st Tattenhams Cub Group (age 7-10 years old). The inclement weather did not deter the youngsters who made a truly impressive job of clearing litter from many public areas around Tadworth, Preston and Tattenham, resulting in 3 very large purple sacks full of litter.

Before the cubs set off, Surrey County Councillor Cllr Rebecca Paul  and the litter picking group's founder and Kingswood resident, Alison Godden gave the cubs an informative and engaging talk about the litter issue and were most heartened by the youngsters' intelligent responses, plus their general understanding and awareness of this terrible unsociable problem. 

Assistant cub leader, Kartik Shah was extremely pleased with the turn out and the cubs'  positive reaction to the exercise.  He said they gained a great deal from the activity and are all very keen to do more litter picking in the near future, though like many people, they are baffled as to why people don't take their litter home with them or put it in a bin!

Each participating cub was presented with a special Surrey County Council certificate by Cllr Rebecca Paul, who comments;

"With the huge surge in littering during the pandemic, it's particularly reassuring and heartwarming to see these young people coming together to clear up their local community.  Such enthusiasm and responsible behaviour by the 1st Tattenhams Cub Group is something to be celebrated.

Teaching our young people the importance of tidying up after themselves is essential if we want to reduce littering in the future.  These organised litter picks are a great way of achieving this."

The litter picking assignment will contribute towards the cubs' Community Impact, Environmental Conversation, World and Teamwork badges.