A Levels for Alex – Triathlon for Ryan – 2 amazing young men living their lives after #BrainInjury @Childrens_Trust
These are just 2 stories of patients of The Children's Trust who have gone onto to do amazing things - things they never thought possible - following Brain injury.
Boy with brain injury passes A-levels to secure place at University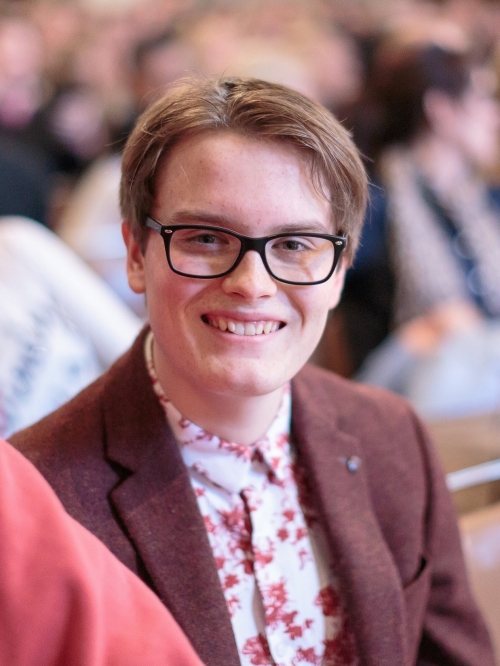 Despite being diagnosed with a brain tumour the size of a golf ball four years ago, Alex Barton from Hertfordshire achieved a distinction in Applied Science and A Levels in Geography and Geology, securing him a place at the University of Leicester.
Now 19, Alex is over the moon with his results and university place which, at one point, looked as though would never be possible. Alex has deferred his place for a year and will start at the University of Leicester in 2018 where he will study Applied and Environmental Geology and hopes to be a geologist in the future. Until then, he intends to enjoy a year away from studying and is currently in the US where he viewed the recent solar eclipse and to mine for diamonds.
Alex's Dad, Miles, said: "I am so proud of Alex, he's truly amazing. There were lots of tears when he collected his results. We are sure The Children's Trust helped him on his way. We cannot thank them enough."
Dalton Leong, Chief Executive at The Children's Trust, said: "Alex is a very brave and optimistic young man and he has worked very hard. He thoroughly deserves this result and we are sure he will have a bright and successful future. We are very grateful for the invaluable contribution he makes to The Children's Trust, helping to raise money for the charity and supporting and inspiring other young people with brain injury."  
Alex was 15 when he noticed a weakness in his right hand was preventing him from playing his guitar properly. An MRI scan and biopsy revealed an inoperable brain tumour the size of a golf ball sitting on his brainstem. Alex received proton beam therapy in the USA to try to stop the tumour in its tracks. He returned home a few months later, but soon after became unwell and needed emergency surgery to drain a large build-up of fluid that damaged his brain.
Alex stayed at The Children's Trust for three months of intensive neuro-rehabilitation, accessing therapies to help improve his cognition, communication and confidence including occupational therapy, speech and language therapy and play therapy. As a result of his brain injury, Alex faces some ongoing challenges. He still suffers with memory problems and fatigue. Alex is heavily involved with The Children's Trust, helping to raise awareness of brain injury and inspire other young people not to give up on their dream.
Young man with brain injury completes triathlon in aid of The Children's Trust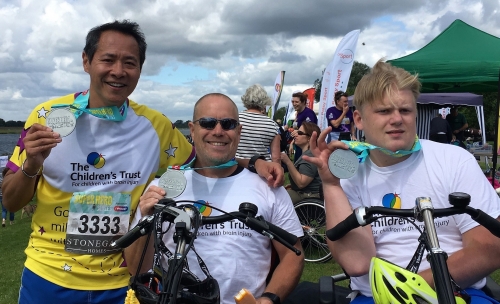 Chief Executive of The Children's Trust, Dalton Leong, Mark Smith and Ryan Smith with their medals after the triathlon.
Ryan Smith, 20, aka the blonde warrior, completed a 20km bike ride as part of the Superhero Series on Saturday 9 August, to help raise money for the charity that supported him following a brain injury.
Organised by former Paralympian and ambassador of The Children's Trust Sophia Warner, the Superhero Series took place at Dorney Lake in Windsor. Ryan's team included father Mark who swam 750m and Chief Executive of The Children's Trust, Dalton Leong, who took on a 5km run.
The challenge was no mean feat for Ryan, from Skegness, who was involved in a road accident whilst cycling to work four years ago. Ryan was lucky to survive the accident, but a life changing brain injury has left him severely disabled. Ryan received nine months of intensive rehabilitation at The Children's Trust, the UK's leading charity for children with brain injury, where he relearned key skills such as sitting up, eating and talking. Ryan and his family have been closely involved with the charity ever since.
Mark explains: "Brain injury is life-long. Ryan's doing really well but he's got a long way to go. The Superhero Series was a great opportunity to show his progress and take part in a challenge with other people, disabled and non-disabled alike. It was fantastic for us both to be able to do this in honour of The Children's Trust too. And we did it! I'm just so proud of him. It was such a heart-warming event."
Dalton Leong, Chief Executive of The Children's Trust, said: "Ryan is a very brave and optimistic young man. He has worked very hard at his rehabilitation, never giving up and overcoming huge challenges. It was a truly inspiring event, where people of all ages and abilities can take part. The Children's Trust is incredibly grateful to Mark and Ryan for the contribution they make in helping us to raise money for the charity and for inspiring other young people with brain injury. I was honoured to be part of Team Smith."  
Ryan, Mark and Dalton took part in the Superhero Series as part of #MyBrave, The Children's Trust campaign which encourages everyone to go outside of their comfort zone, take on a challenge and do something brave to help raise money for children with brain injury. If you would like to take part in a #MyBrave challenge visit www.mybrave.co.uk