80-year-old #Banstead man honoured with Special Recognition Award by The Children's Trust @Childrens_Trust
Lady Hill and Deputy Mayor, Councillor Julian Ellacott attended The Children's Trust Volunteer Awards on Wednesday 12 December, a special event to mark the enormous contribution volunteers make to the charity, which helps children with brain injury from across the UK.   
Douglas Nurse, from Banstead, a volunteer for 16 years and now in his 80s was presented with the Sir Brian Hill Special Recognition Award to celebrate outstanding volunteer achievement from an individual who has continuously gone above and beyond for The Children's Trust. Douglas generously gives his time to maintain the beautiful grounds at the charity, which are very much part of the rehabilitation of the children and also provide comfort for families who have often spent long periods in a hospital prior to arriving at The Children's Trust. 
Douglas previously worked in the City of London police force for 40 years, finishing in the Old Bailey. He also volunteers for other charities maintaining gardens and restoring canals. 
Douglas said: "I'm honoured to have been presented with this award – I thoroughly enjoy volunteering for The Children's Trust and take great pride and satisfaction in the job I do and making a difference to the lives of children with brain injury." 
Lady Janet Hill and her son, William, presented the award. William said: "My father deeply valued the contribution that volunteers made to the charity and so we have created this award in his name as a mark of true excellence. There were many people who could have been recognised amongst the 1,000 volunteers, without whom the charity simply could not exist. However, Douglas was a worthy winner and it was very humbling presenting the award to him."  
In June 2018, The Children's Trust launched The Sir Brian Hill Volunteer Programme as a tribute to their former Chair and President who was passionate about the power of volunteering. The programme is backed by the generosity of the Hill family in memory of Sir Brian who died late last year, and aims to recruit and train more volunteers to support the work of The Children's Trust, and recognise the valuable contribution they make to the organisation. 
Volunteers donate over 100,000 hours a year to support the organisation (over 11 years' worth of time). Over 1,100 volunteers work on site, in retail shops and out in the community to support The Children's Trust. Retail volunteers have sorted through 85,000 bags of donations in 2018 from over 35,000 donors. 
If you're interested in volunteering for The Children's Trust, visit  www.thechildrenstrust.org.uk/volunteer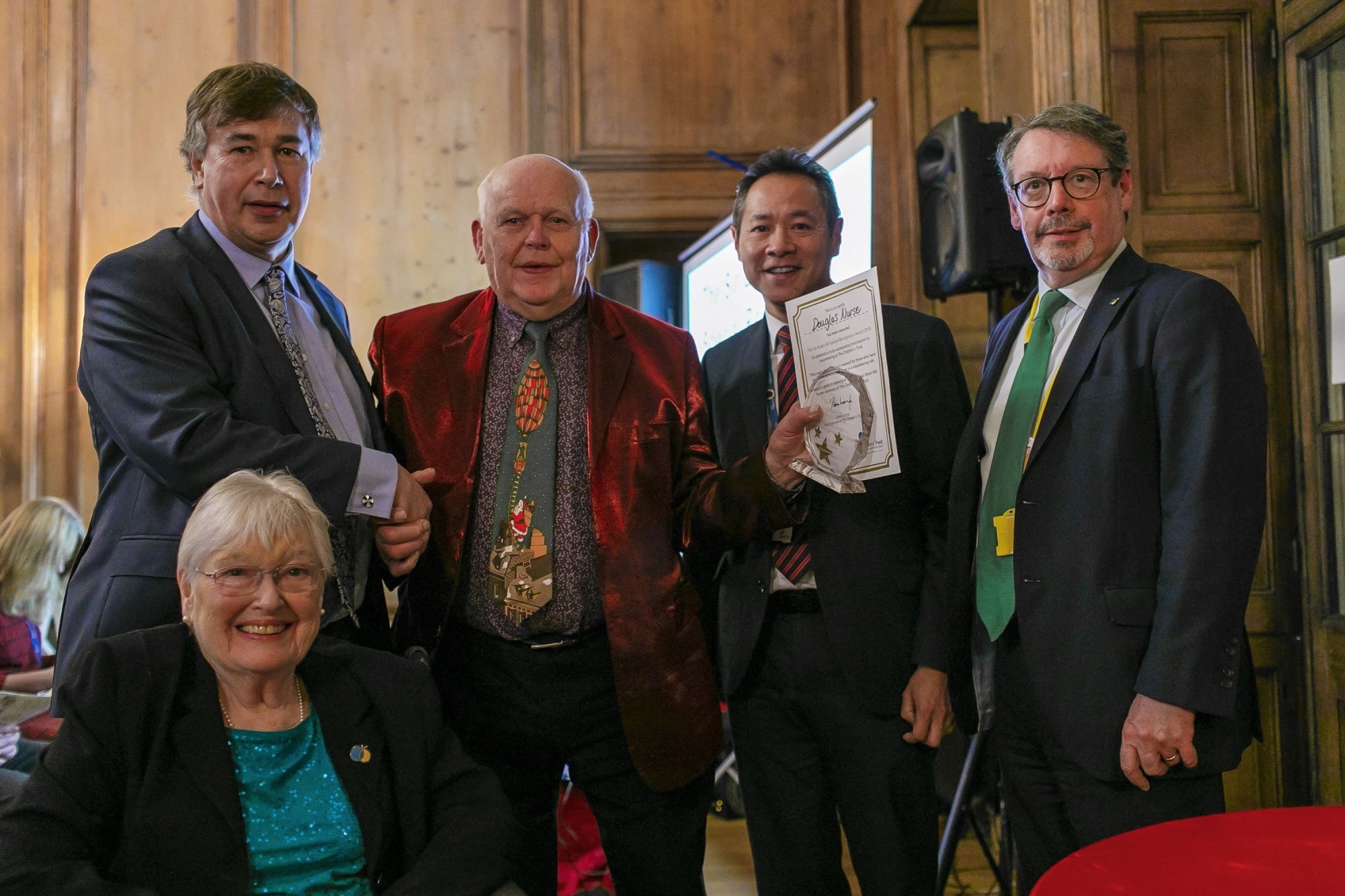 Photo caption from left: William Hill, Douglas Nurse, Dalton Leong, Duncan Ingram and Lady Janet Hill