It's full steam ahead at the Spread Eagle in Croydon!
21st May 2014
... Comments
---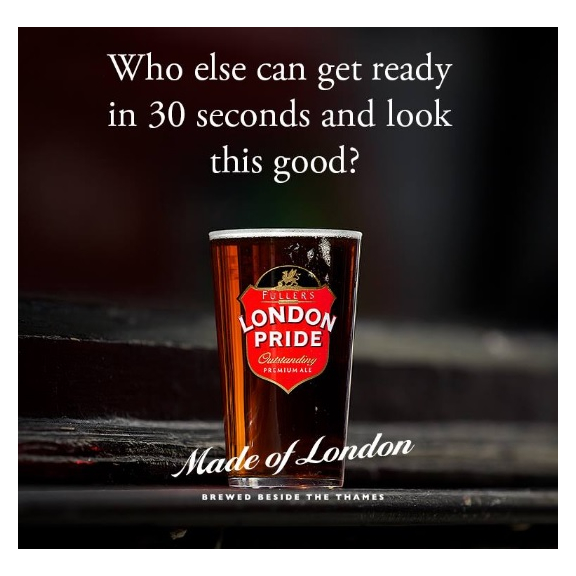 There's a very good reason why The Spread Eagle in Katharine Street is firmly established as one of (if not THE) best pubs in Croydon.
Actually, it's not just one reason but lots of them! Not only is the pub one of the nicest atmospheres in which to spend an afternoon over a pint and the papers - both because of the friendly staff and great interior design - but they also serve excellent ales and some of the tastiest pies you'll ever have (or I'll eat my hat!)
What I didn't realise is that Robin and his team are already getting their heads together to compile their Christmas menus for this year... you don't realise quite how far in advance these things are planned when you're tucking into your turkey and cranberry sauce (or maybe one of those tasty pies!).
Back to the here and now though, over the last month, Fullers (the brewery that runs The Spread Eagle) have launched a major campaign to promote one of their old favourites - London Pride, London's most famous beer icon. Called "Made of London" the campaign sets out to put London Pride at the heart and soul of London and Londoners. It focuses on bringing to life stories about London and the people who make us all feel proud of the city.
As Greater London's largest Borough, Croydon is very much part of the campaign and are delighted to serve London Pride to the many regulars at the pub. 
What's more, the extra added attraction for The Spread Eagle is the theatre, which continues to pack out performances month on month. Just over this next month there's a real treat in store with fabulous shows such as "Songs from a Ledge" which is on this week - it's a  new Blues Opera based on the troubled life of fictional jazz 'n' blues. This is closely followed by "An Improvised Murder" which promises a night of stories, laughter, games… and death. And there's lots more to follow... click here to see the list of forthcoming shows.
So head down to Croydon's favourite boozer for a pint and performing arts this Spring!