They're into it - why?
Because McCarthy Cars have a veritable family of dogs across their team with Darwin, Badger, Squid, Poppy and Honeybear 

Rob McCarthy is quite simply a dog fanatic and as McCarthy Cars' resident guru, he's devised  a 'Dog Friendly Car Rating System' in memoriam for Koyo McCarthy, his beloved Bernese Mountain dog, who passed away on 5th February 2015 after battling with cancer.
So now when you buy a car from McCarthy Cars you'll see their rating systems for the 'Dog Friendliness' of each model.
How will you know whether it's dog friendly?

The model you're thinking about will feature a Koyo Rosette and a size and paw rating, which will reflect our view on the 'dog friendliness' of that car based on what size of dog they are best suited for the car's features.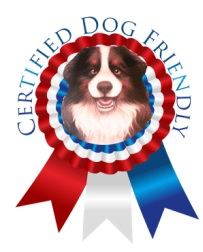 For example, if you consider the two scales below a Volvo V70 would receive a Koyo Rosette plus a Large Four Paws rating, which means they feel that it's one of the most suitable cars for this size of dog.