... And onto a bonza bonfire night
3rd November 2009
... Comments
---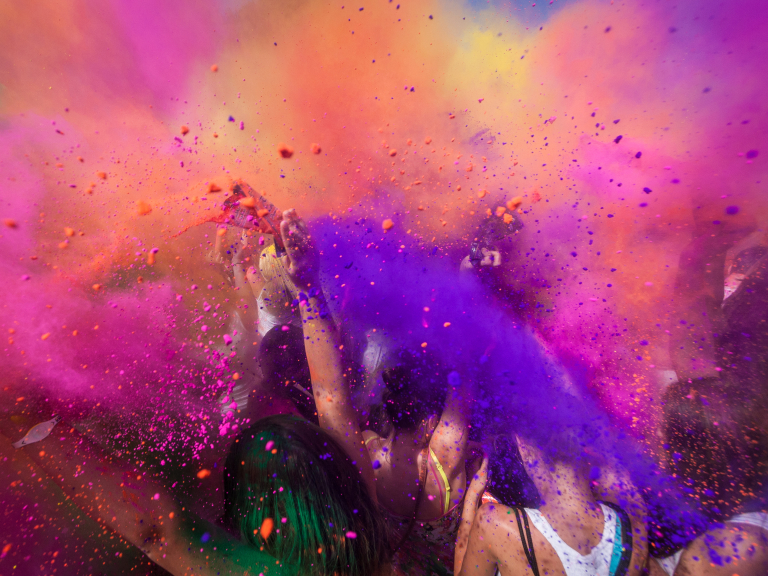 What a great Halloween!

As my partner and I watched giggling from a darkened upstairs window on Friday night, several over-excited youngsters trick or treated our next door neighbour, possibly the grumpiest man in our area of Croydon. Having forgotten to get any sweets in, we were briefly holed up in a dark house, watching the group approach other houses in the street. Got to love a bit of vicarious fun.

The Witching Hour was close, and this was still a night early. Due out to a party on the actual All Hallow's Eve, we still didn't get any sweets in the following day. Bah Humbug I hear you say. Ho-no, I reply. We spent some 3 hours in town on Saturday morning, trawling the charity shops in Croydon for suitable attire. We had the bud of an idea, if only we could find the right outfits...

One silver paisley waistcoat, a pleated tuxedo shirt and a long black flamenco dress ruffled beyond all good taste and imagination later, and our fate was set - tonight, zombies would walk the earth.

Later, as we got ready and were of course running terribly, terribly late, our toddler didn't bat an eyelid that her dad now had his heart hanging out of his chest and some intestines coming loose, and that her mum had a hole in her stomach and looked worse than she usually does on a Sunday morning. Nope, nothing to worry about there apparently. She herself looked wicked as a picture in a dinky witch's costume, although I'm sure your average witch doesn't usually get so stroppy about keeping her hat on.

Having arrived at the party looking like death warmed up, it very nearly descended into real life casualty-requiring fun when the bonfire and fireworks were lit.
Surprisingly however, it wasn't the fireworks that were the problem, which made me realise I'd been barking up the wrong funeral pyre in previous posts about bonfire night safety.
No, we discovered on Saturday that a plinth of limestone slabs (to protect the grass) can still explode with the force of a small mortar if an 8ft high bonfire on top gets to the perfect temperature.

As the oohs and ahhs echo into eeeks and argghhs in my memory, please please be careful this coming bonfire night - be safe, be sensible, but have fun!



Katrina

Thank you for reading thebestof Croydon Blog. If you are LOCAL to Croydon and VOCAL - we'd love to hear from you. Come and blog with us: email croydon@thebestof.co.uk

TheBestOfCroydon Blog - what's on, what's new, what's done, what's you

Katrina Monroe is a freelance writer and photographer with The Little White Studio.