Cirencester's Food Passport Launches!
5th February 2014
... Comments
---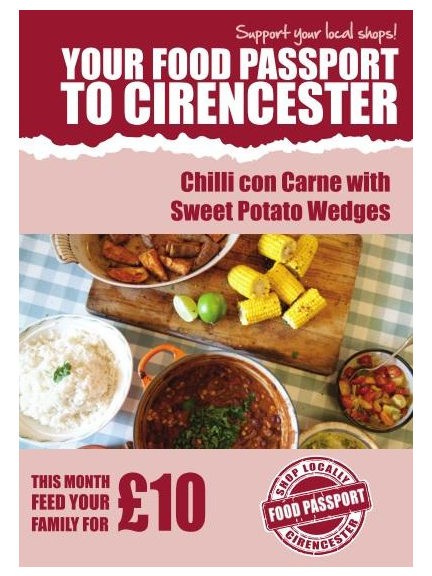 Cirencester Community Development Trust (the Trust) is pleased to announce the launch of its support local initiative "Food Passport to Cirencester".
"The Food Passport celebrates local food through monthly menu cards with local chefs sharing their favourite dish using produce available from our independent food retailers" says Jonathan Davies, Trust Director, "Through the menu cards we hope to promote the great food offer available in Cirencester and show that it is possible to eat well using fresh ingredients purchased from local retailers in the Town."
Cirencester is a great Market Town well known for its independent traders and the Food Passport celebrates the strong food offering of the town from our pubs and restaurants to our local greengrocers, butchers and market traders.
The initiative launches on the 28th February 2014 on the Charter Market with the first menu card available to take away from Chef Laurence Kapoor of the Little Green Wiggly Machine.
"Supporting local is no chore when there are so many fantastic producers in our area" says Laurence, "We need to celebrate the incredible people and produce in Cirencester. I'm proud to be part of the incredible food scene here."
People can even win in a monthly prize draw! Just prove you shop local by attaching a receipt to the competition slip at the bottom of the menu card and return it to the Local Information Point, Dyer Street to be in with a chance to win a prize from the chefs.
Menu cards will be released on the last Friday of the month. They will be available from the Local Information Point, Dyer Street and independent retailer The Market Garden. They will also be available to download at www.cirencester.gov.uk/your-community/ccdt on the Trust's Food Passport page.
"The Market Garden is very pleased to be a part of this initative" says Ian Crees of the Market Garden "We strongly believe that buying fresh produce is so much better in the high street where we offer locally grown, seasonal produce at the best value for money around."